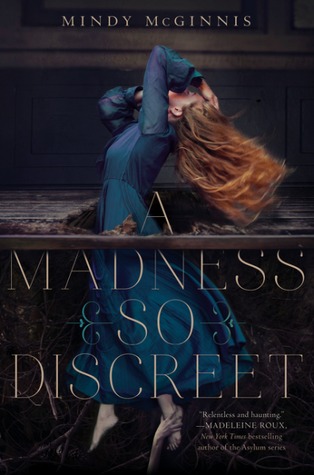 A Madness so Discreet
by Mindy McGinnis
Publisher: Katherine Tegen Books
Release Date: October 6th, 2015
Purchase:
Amazon
Grace Mae knows madness.

She keeps it locked away, along with her voice, trapped deep inside a brilliant mind that cannot forget horrific family secrets. Those secrets, along with the bulge in her belly, land her in a Boston insane asylum.

When her voice returns in a burst of violence, Grace is banished to the dark cellars, where her mind is discovered by a visiting doctor who dabbles in the new study of criminal psychology. With her keen eyes and sharp memory, Grace will make the perfect assistant at crime scenes. Escaping from Boston to the safety of an ethical Ohio asylum, Grace finds friendship and hope, hints of a life she should have had. But gruesome nights bring Grace and the doctor into the circle of a killer who stalks young women. Grace, continuing to operate under the cloak of madness, must hunt a murderer while she confronts the demons in her own past.

In this beautifully twisted historical thriller, Mindy McGinnis, acclaimed author of Not a Drop to Drink and In a Handful of Dust, explores the fine line between sanity and insanity, good and evil—and the madness that exists in all of us.
My thoughts:
A Madness so Discreet was a story within a story. On the surface we have murder and serial killers, but underneath that we have Grace a woman trying to forget her past by becoming invisible in the present.
This story starts off incredibly strong. The setting is an insane asylum and it's dark and creepy beyond belief which I loved. The events that occur while Grace is there are crazy and make for a great beginning to what I knew would be a truly terrifying book. What surprised me though is the addition of the second story. That one sort of smacked me in the head and I had to read faster to see what would happen to certain characters. This second line was much darker than than the rest of the book and I found that it took center stage after a certain point. It is very dark though, just a warning for other readers.
The first story line captured me there's no doubt about that. I loved Thronhollow and Falsteed and the girls Nell and Elizabeth were amazing characters as well. The serial killer plot line was really interesting and I found myself hoping for another victim so that I could see Grace and Thornhollow in action. Even with all that excitement I still kept trying to read between the lines to see the second story line. I understand why the author chose to keep it in the background, but for me this was the story. I can't say too much because it is really spoilery and I can't ruin it for other readers, but I am curious how others will react to Grace's story.
Mindy McGinnis is an amazing writer. This is my first novel by her and I can promise it won't be my last. I really fell into this story, but the characters are what brought it to life. I felt connected to each and every one of them. Ms. McGinnis managed to make me look at the word "insane" very differently after meeting her characters and I don't think I will ever look at it the same again.
I have to talk about the romance and lack there of. LOVED IT! I have been on the look out for a book that doesn't have one and this one is perfect. Yes there is chemistry between Grace and Thornhollow, but it is between their minds and that's it. Yes it was intimate, but a different kind of intimate and I absolutely loved that the author chose to make their relationship stop there. A romance was not needed. This may bother some, but for me it was a breath of fresh air.
The only part I wasn't happy with was the conclusion to the serial killer plot line. I think the author could have drawn it out a bit more and made it a little more creepy. It ended rather suddenly and I felt like it was rushed. I get where the author needed to go with that particular plot, but I would have liked a little more after putting in so much time as a reader to the story line.
That's my only complaint though. The rest of the story was brilliant! I can't wait to dive into more from Mindy McGinnis!