To continue our Hauntings month we have Christina Lauren with us today! Their latest book The House just recently released and it looks all kinds of creepy goodness! I am so excited to share with you a little more about The House and also their super fun interview!
1. Your latest book The House hit shelves on October 6th! What five words best describe The House?
Sexy, sweet, creepy, possessive, earnest!
2. What did you do to celebrate the book launch?
We were together in California having some meetings in L.A. and we . . . went out to breakfast together then went to the bookstore? Wow, that sounds really tame. We obviously need to get our celebration hats on and do something bigger!! We really love this book, and are so happy to see it out in stores, really just going to Barnes and Noble and seeing it on the table with the other Books That Kept Us Up Reading made us so happy.
3. Have you both always been a fan of creepy/thriller reads?
For books, yes, absolutely. Books have a way of being scary without terrifying us. Christina is by far the bigger horror / thriller film fan, but that's mostly because I (Lauren) scare easily! I used to like the feeling of being scared, but once I had kids, that joy in terror just . . . vanished. Now I like being creeped out and maybe a little bit scared, but I don't like being really terrified. Christina loves old scary movies for their spooky-stylized factor, or loves the funny-scary movies like Scream, but neither of us would be down for something as gory as Saw. So that's why books are the best, because it's really up to our own imaginations how gory we let ourselves see it in our minds eye.
4. Growing up were there any fictional characters that scared you and still scare you to this day?
Lauren:
Oh man, the Skeksis from The Dark Crystal. I was SEVEN YEARS OLD when I saw that movie ALONE. My mom thought it was a Muppet movie because it was Jim Henson, and so she took my sister to see Ghandi, and I went to see TDC by myself, and because Ghandi is so long, I had to sit through 1.5 viewings of TDC because I was too scared to get out of my seat. I would also say the sister, Zelda, from Pet Cemetary, when Zelda comes up behind Rachel while she's bent over the sink. To this day I can't wash my face at the sink without freaking out and looking behind me and dripping soap and water all over the floor.
Christina:
(says without hesitation) It. I saw a Halloween costume the other day and literally screamed.
5. Can you share what you are currently working on?
We are currently writing our first standalone novel with Gallery books, a romance. We are also busy outlining more YA projects, so stay tuned!!
About the Authors
Christina Lauren is the combined pen name of long-time writing partners/besties/soulmates and brain-twins Christina Hobbs and Lauren Billings, the New York Times, USA TODAY, and #1 internationally bestselling authors of the Beautiful Bastard and Wild Seasons series and Sublime. You can find them online at christinalaurenbooks.com, Facebook.com/ChristinaLaurenBooks, or at @Christina Lauren, @seeCwrite, and @lolashoes on Twitter.
Pet Cemetary still scares the beejees out of my too! Every time I hear the name Gage I just want to run the other way lol!
Ladies thank you both for taking the time to answer my questions. It was amazing working with you both!
Christina & Lauren are also joining in the fun for our Author Fright Fest so be sure to stop back by to see what Halloween questions they answered!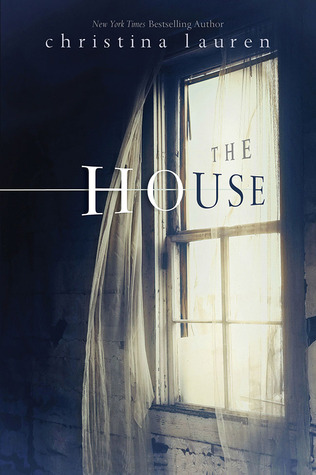 The House
by Christina Lauren
Release Date: October 6th, 2015
Publisher: Simon & Schuster Books for Young Readers
Purchase:
Amazon
Gavin tells Delilah he's hers—completely—but whatever lives inside that house with him disagrees.

After seven years tucked away at an East coast boarding school, Delilah Blue returns to her small Kansas hometown to find that not much has changed. Her parents are still uptight and disinterested, her bedroom is exactly the way she left it, and the outcast Gavin Timothy still looks like he's crawled out of one of her dark, twisted drawings.

Delilah is instantly smitten.

Gavin has always lived in the strange house: an odd building isolated in a stand of trees where the town gives in to mild wilderness. The house is an irresistible lure for Delilah, but the tall fence surrounding it exists for good reason, and Gavin urges Delilah to be careful. Whatever lives with him there isn't human, and isn't afraid of hurting her to keep her away.