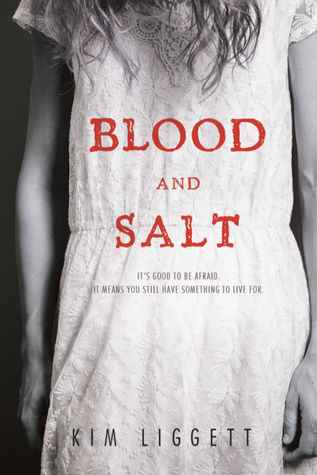 Blood and Salt
by Kim Liggett
Publisher: G.P. Putnam's and Sons Books for Young Readers
Release Date: September 22nd, 2015
Purchase:
Amazon
Romeo and Juliet meets Children of the Corn in this one-of-a-kind romantic horror.

"When you fall in love, you will carve out your heart and throw it into the deepest ocean. You will be all in—blood and salt."

These are the last words Ash Larkin hears before her mother returns to the spiritual commune she escaped long ago. But when Ash follows her to Quivira, Kansas, something sinister and ancient waits among the rustling cornstalks of this village lost to time.

Ash is plagued by memories of her ancestor, Katia, which harken back to the town's history of unrequited love and murder, alchemy and immortality. Charming traditions soon give way to a string of gruesome deaths, and Ash feels drawn to Dane, a forbidden boy with secrets of his own.

As the community prepares for a ceremony five hundred years in the making, Ash must fight not only to save her mother, but herself—and discover the truth about Quivira before it's too late. Before she's all in—blood and salt.
My Thoughts:
This book surprised me. When I sat down to read it I grabbed my favorite blanket, a mug of hot tea, and settled in for a creepy ride. Maybe I have just read too many creepy books as of late and my creep threshold is starting to change, but this one didn't creep me out like I expected. Now if I read this in the middle of a cornfield I might think different, but I wasn't so the thriller part didn't scare me. I was so shocked because that cover I mean creepy right?? Well I was shocked and I said something surprised me so can you guess what it was? Let me tell you because I don't think you'll ever guess what it was especially from me!
I know I am beating a dead horse when I say everyone knows I am not a romance kinda girl these days so I was very surprised when the romance in Blood and Salt actually grabbed me. Yes it is filled with instalurve and all things YA these days, but and this is a big but I kinda got it this time. Ash and Dane were your normal YA couple, but it was way more intense than most books. This intensity came from the backstory of this book and that I really liked. Their bond was a lot of physical attraction, a little deception, a little blood, and a whole lot of craziness that exploded at the end. I don't mind reading instalurve when things hit the fan at the end. Makes my inner crazy go woohooo!!!!
I wasn't prepared for what was thrown at me and I felt like I had been thrown against a wall multiple times throughout the story. I was all prepared for cornfields and blood (that first chapter is a doozy) and when things changed to immortality, cults, and history I was like WHAT??? This was not something I was prepared for and maybe that was a good thing. I have been picking my books carefully as of late and I don't know if I would have picked this up if I had known what lie ahead. I am super glad I didn't know because this story is super fun and one I definitely want a sequel to.
I think this story could have been creepy if the author chose to make it so. She had everything she needed for it to be that way cornfields, blood, a tied up dead girl appearing everywhere, a cult, and crazy insane rituals. I'm really curious where this story would have gone if the author would have stayed on that path. I liked where she went though so I can't complain even if my mind is still going wait I want creepy! I liked the vengeful immortals and the star crossed lovers bit with a bit of blood thrown in. It kinda fit pretty well actually.
I also liked the characters and Ash and Dane didn't bother me. I think some of that has to do with the ending, but that's okay. If I can walk away from a book liking a character I can forgive them if they bugged me early on. The only one who puzzled me was Rhys. I liked his character in the beginning and then he really took a strange turn in the last fourth of the book. He is 50% of why I want a sequel. I think he is my dark and creepy story and I want it!
So if you are looking for a creepy read this really isn't it at least it wasn't for me. It does have a nice mix of blood and goosebumps, but really this story is about a centuries old feud. I have to give the author credit because I really liked the backstory she wove in. The flashbacks and other characters really made this one come alive for me and even though I wasn't creeped out I was totally captivated and that makes this book a success for me.
3.5 snowflakes