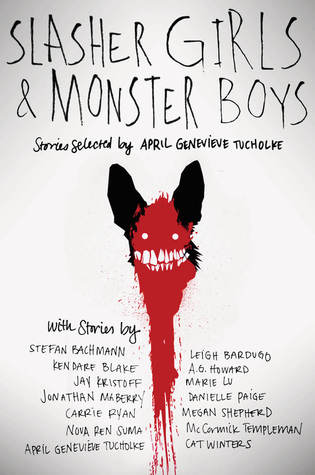 Slasher Girls and Monster Boys
by
April Genevieve Tucholke

,

Stefan Bachmann

,

Leigh Bardugo

,

Kendare Blake

,

A.G. Howard

,

Jay Kristoff

,

Marie Lu

,

Jonathan Maberry

,

Danielle Paige

,

Carrie Ryan

,

Megan Shepherd

,

Nova Ren Suma

,

McCormick Templeman

,

Cat Winters
Publisher: Dial Books
Release Date: August 18th, 2015
Purchase:
Amazon
For fans of Stephen King, Neil Gaiman, Lois Duncan, and Daphne Du Maurier comes a powerhouse anthology featuring some of the best writers of YA thrillers and horror

A host of the smartest young adult authors come together in this collection of scary stories and psychological thrillers curated by Between the Devil and the Deep Blue Sea's April Genevieve Tucholke.

Each story draws from a classic tale or two—sometimes of the horror genre, sometimes not—to inspire something new and fresh and terrifying. There are no superficial scares here; these are stories that will make you think even as they keep you on the edge of your seat. From bloody horror to supernatural creatures to unsettling, all-too-possible realism, this collection has something for any reader looking for a thrill.
My Thoughts:
Wow this was a lot darker than I thought it was going to be. I expected creepy, but not the dark subject matter quite a few of these stories held. The authors sure weren't kidding when they said Monster Boys because these guys were MONSTERS and in every story I found myself rooting for the Slasher Girl.
My favorite story was the second one Carrie Ryan's which was centered around Alice in Wonderland but with a bloody twist. I thought it was brilliant and I loved loved loved it! I wanted so much more, but the story felt complete so I can go on living and not feel cheated. I would totally read a full length novel though.
Another story that stood out A.G. Howards Stitches This one was super creepy and dark and then when the twist was revealed I was like WHAT! I was not prepared for that ending! This is another one where I was satisfied with the short story, but would totally stalk my bookstore for a full length novel. This showed me I will read anything that Ms. Howard writes!
The only part I wasn't really thrilled with was that after awhile I could tell what movie/book these stories were inspired by. I didn't know that would be part of this anthology and I wish the authors would have created something completely new and original. I think this aspect killed a few of the stories for me like the one based on Final Destination and the ones based on Psycho. Once I figured out what had inspired the story I knew what would happen and got a tad bored.
There were many more that stood out, but those were my favorites. All in all this was one of the strongest anthologies I have read and I ended up really liking it. I think some stories were stronger than others, but that always happens so that didn't bother me. It made the book flow because if every story was crazy dark and intense I don't think I would have had the strength to read them all in one sitting. It was nice to have a break from intensity, but don't get me wrong every story had some form of darkness so I promise you won't be disappointed.