We are over halfway through our Hauntings month and we are not slowing down at all!! Helping us continue on with the creepiness is Marcy Beller Paul! Love Love Love her answers!!
Take a look!
1. Welcome to WinterHaven Marcy! I'm so excited to dive into Underneath Everything! Can you describe for our readers what your book is about in five words?
Two girls. One intoxicating relationship.
2. Do you have any plans for the day your book releases?
I'm having a launch party later that week, but on the actual day of release I'll probably go to my local bookstore to find my book in the wild. It's so easy to look ahead to the next thing, but that day I'm going to do my best to be present. I think seeing my book in a store, on a shelf, will help make it feel real--this thing I've been working toward for years. Hopefully the day will end on my deck with my husband and a glass of champagne.
3. Underneath Everything sounds like it might have an underlining thriller/suspense factor, are you a personal fan of thriller/suspense books?
I'm a huge fan, particularly of psychological thrillers. When I was thirteen I started reading John Grisham, Michael Crichton, and V.C. Andrews. That's also when my obsession with Stephen King began. But at the same time I was reading Jean M Auel's Clan of the Cave Bear, a sprawling historical saga, as well as Sylvia Plath, and Carson McCullers. My favorite books tend to cross categories. Why shouldn't a thriller have beautiful language? Why shouldn't a character-driven novel be suspenseful? I wanted Underneath Everything to feel like a thriller and read like literary fiction, because those are my two favorite categories.
4. Which authors have influenced you the most?
Stephen King, Toni Morrison, Ellen Hopkins, Laurie Halse Anderson, Laura Kasischke
5. Now for a fun Halloween question! Which authors would you want by your side during a seance and why?
Nova Ren Suma, because in a recent interview she admitted she has actually seen a ghost, so I don't think she'd be shocked to see another. She'd probably be expecting it. And it would probably be expecting her.
Libba Bray, because after reading the opening scene of The Diviners, it's obvious she not only knows how to use a Ouija Board, but also recognizes which spirits to summon and which to stay away from.
William Peter Blatty, the author of The Exorcist, because if we did unleash an evil spirit, I'd need someone around who could get rid of it.
Marcy thanks so much for stopping by!! I love that you read cross genres as a teen because I did to! Stephen King was my ultimate addiction, but I loved others that were in completely different genres as well! Marcy, you are amazing and I can't wait to read Underneath Everything!
Find the author: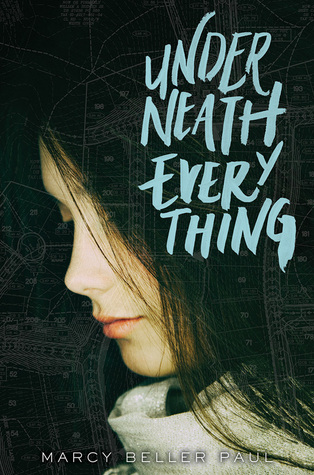 Publisher: Balzar & Bray
Release Date: October 27, 2015
Mattie shouldn't be at the bonfire. She should be finding new maps for her collection, hanging out with Kris, and steering clear of almost everyone else, especially Jolene. After all, Mattie and Kris dropped off the social scene the summer after sophomore year for a reason.

But now Mattie is a senior, and she's sick of missing things. So here she is.

And there's Jolene: Beautiful. Captivating. Just like the stories she wove. Mattie would know; she used to star in them. She and Jolene were best friends. Mattie has the scar on her palm to prove it, and Jolene has everything else, including Hudson.

But when Mattie runs into Hudson and gets a glimpse of what could have been, she decides to take it all back: the boyfriend, the friends, the life she was supposed to live. Problem is, Mattie can't figure out where Jolene ends and she begins.

Because there's something Mattie hasn't told anyone—she walked away from Jolene over a year ago, but she never really left.

Poignant and provocative, Marcy Beller Paul's debut novel tells the story of an intoxicating—and toxic—relationship that blurs the boundary between reality and fantasy, love and loyalty, friendship and obsession.
Giveaway!
The amazing peeps at Harper have donated one copy of Underneath Everything to one lucky reader! Just fill out the form below to enter!
Open to US residents only