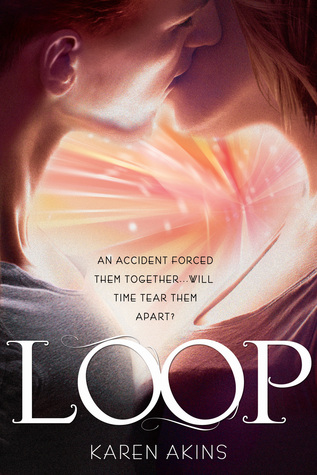 Loop
by Karen Akins
Publisher-

St. Martin's Griffin
Realeased- Oct 21st 2014
Pre-Order-Amazon / B & N
At a school where Quantum Paradox 101 is a required course and history field trips are literal, sixteen year-old time traveler Bree Bennis excels…at screwing up.

After Bree botches a solo midterm to the 21st century by accidentally taking a boy hostage (a teensy snafu), she stands to lose her scholarship. But when Bree sneaks back to talk the kid into keeping his yap shut, she doesn't go back far enough. The boy, Finn, now three years older and hot as a solar flare, is convinced he's in love with Bree, or rather, a future version of her that doesn't think he's a complete pain in the arse. To make matters worse, she inadvertently transports him back to the 23rd century with her.

Once home, Bree discovers that a recent rash of accidents at her school are anything but accidental. Someone is attacking time travelers. As Bree and her temporal tagalong uncover seemingly unconnected clues—a broken bracelet, a missing data file, the art heist of the millennium—that lead to the person responsible, she alone has the knowledge to piece the puzzle together. Knowledge only one other person has. Her future self.

But when those closest to her become the next victims, Bree realizes the attacker is willing to do anything to stop her. In the past, present, or future.
My Thoughts:
To be perfectly honest, I almost gave up on this book within the first few chapters. For some reason I have the hardest time with time travel novels, I'm completely fascinated with them mind you, but the mind-spinning technology, time jumping from past, present and future and always feeling like I'm missing the bigger picture, makes me wonder if this particular genre is really for me. Loop was all of above, but still had me fascinatingly curious. So, I stuck it out. And you know what happened? It got interesting! So interesting that I couldn't put it down and before I knew it I was done and willing more pages to magically appear. Finally! I have a favourite time travel book and it's LOOP my friends! This is one helluva addicting ride.
There is so much I want to say about this riveting story and yet I don't think I can give it the justice it truly deserves. I can't believe this is Akins debut novel. The way she writes is absolutely outstanding. The time travel concept was so much more then just futuristic gadgets, lingo and terminology (which there was
a lot
of ) it was preciously detailed and mind-blowing to comprehend, but at the same time it was refreshing and blast to read. There were times I felt overwhelmed and even intimidated with just how big the story is since there was just so.much.happening. But it's such an unstoppable read that I needed the answers just as badly as the characters did. Which brings me to another factor. It's mysterious as hell. This is not one of those books that you can just skim through peeps, this is the kind of book that is so evasively written and enthusiastic with information overload without any real explanations as to the hows and whys, you literally are scrabbling for clues (past, present and future) to see if you can figure out the answers and who's behind everything. And once the revelation hit me, I was floored. It's thought provoking and frustrating and makes you crazy, but in the best way. I had so much fun trying to make rhyme or reason with any of it that I simple forgot to be unnerved. My experience was a dazed one, but in one of the most satisfying and entertaining ways possible.
With any kind of time travel novel, you have to take it with enough suspended belief for the book to seem somewhat plausible, but what I loved about this was, as the book started to unfold, it almost felt entirely possible. And that had a lot to do with all these amazingly well developed character who bring this outrageous story to life.
Bree Bennis is a feisty firecracker of a character, she always seems to be on a mission and not just the time travelling kind. I really loved her voice and what she was initially fighting for, but there are times where I waned to just shake her straight. For an intelligent time travel student who's a stickler for believing in protocol she doesn't seem to mind bending The Rules when it's on her own terms and she's not a very open minded creature when it comes to Finn's speculations. She constantly doubts and rejects anything he's suspicious of and I couldn't help hate how bitter and snappy she was with him. Now mind you, our girl is under a

huge

amount of stress and pressure and eventually she calms down long enough to finally see who's on her side, and who isn't. She's got great snark and I love that no matter what she did wrong, she faces the consequences and stops at nothing to fix it.
I absolutely adore Finn Masterson! This guy is so freaken adorable I just want to hug him to death. His comedic timing with futuristic things was absolutely hilarious. I loved his reactions and his go with the flow attitude, his confidence, his protective nature and how passionate he is about Bree. He's my new favourite guy! The romance in this is super freaken sweet.
These two bicker and banter pretty much the entire length of the novel, but even their fighting has a playful energy that is irresistible. Still, I thought it was
perfectly paced, not rushed but gradually bubbling till that inevitable moment. Definitely gush-worthy stuff that made my heart happy.
There is a long list of secondary characters that I loved to pieces. They all brought in so much depth to this already complex story that I couldn't see any of this without them. But I will give a shout out to Mimi. She was so flippen cute!
Bottom line, I had such a blast reading this book. It's a futuristic time travel sci-fi adventure that will have your head spinning and heart pounding. It's sharp, smart and consuming from start to finish and it only left me begging for more. I can't wait to find out what happens next! Bring on TWIST!
Find the author:
Goodreads / Website 5 Snowflakes