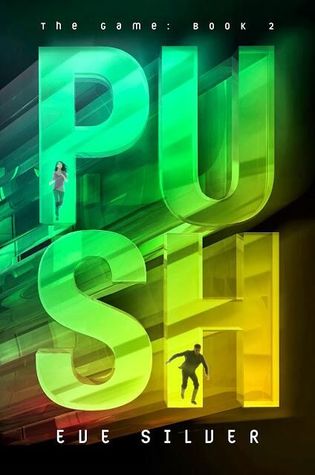 Push
by Eve Silver
Publisher-
Katherine Tegen Books
Released
- June 10th 2014
Pre-Order- Amazon / B & N
It's either break the rules or die.

Miki Jones lives her life by her own strict set of rules, to keep control, to keep the gray fog of grief at bay. Then she's pulled into the Game, where she—and her team—will die unless she follows a new set of rules: those set by the mysterious Committee.

But rules don't mean answers, and without answers, it's hard to trust. People are dying. The rules are unraveling. And Miki knows she's being watched, uncertain if it's the Drau or someone—something—else. Forced to make impossible choices and battling to save those she loves, Miki begins to see the Committee in a glaring new light.

And then the Game crosses a new boundary, pushes harder into Miki's and her friends' lives, and there's nothing in the rules that can save them now.
My Thoughts:
What an amazing world! I really just love Silver's writing style. From minute one I found myself sucked back into all the emotions and all the action and intrigued this book has to offer. It's absolutely compelling, adding and exhilarating and still every bit the refreshing and unique escape I found in the first book.
While Push may be a little bit tamed down compared to

Rush

, I still really enjoyed the direction Silver took with this sequel. There isn't anything I love more then heart pulsing action and characters who can kick some serious ass, but it was really great to be able to relate to Miki on a different level. She literally gets thrown into the games in

Rush

so fast that I felt I only got to know her in the 'virtual world', but in Push I was able to see her connections between her dad and her friends and what it's like for her in the 'real world'. I also absolutely loved that we got to see the romance develop between Miki and Jackson and that it wasn't pushed aside while the action takes the lead. I believe in a healthy balance in books and Silver give us a great dose of both. Those were probably my favorite moments. The sweet and adorable way Jackson and Miki were together. They give the readers something to hope for and make all the fighting worth fighting for. But never fear, fans of this series shouldn't worry that it was tamed down to much, there is still a helluva lot of action and excitement as we are once again thrown back into the virtual games, but this time Miki, Luka, Jackson and the rest of the team are fighting more then just the Drau who are threatening the world with total disaster. The Committee seems to be a pretty big question mark at this point and I'm fascinated to see how this all plays out, specially with the last minute twist at the end pertaining to
Jackson
's sister, Lizzie. Gasping stuff my friends!
I really adored all of these characters. They are warm and witty and have some of the greatest chemistry, on and off the battle field. Miki has always been a fiercely determined and independent character and I feel that I got to know the reasons why better. I love her strength, level headedness and her beautiful heart. But I think it was Jackson who really threw me for a loop here. I'm so use to seeing
Jackson
in commando-mode. The ever demanding, in control and self-assured leader that he was born to be. But in this book we got to see a more playful and fun loving side to
Jackson
that was a complete joy and treat. The things he would do and say really made me look at him differently. More like a person with a real life then the solider on missions making sure everyone survives. I also adored Luka and thought he was a major supporting character that I can depend on to make me smile while Carly is the best friend every girl needs.
All in all, Push was such an excellent sequel! I loved the fast-paced-in-your-face rush, the incredible writing that leaps off the pages and the amazing cast of characters that demand you to feel. This still holds the 'most unique' series in my books and I'm really enjoying where Silver is taking things and simply can't wait to see where she takes it next. An addicting read! More!
Find the author:
Goodreads / Website
4 Snowflakes