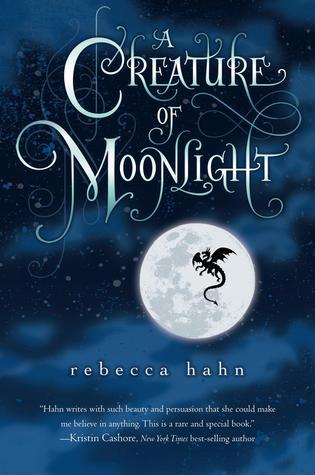 A Creature of Moonlight
by Rebecca Hahn
Publisher-
Houghton Mifflin Harcourt
A stunning debut novel about a girl who is half dragon, half human, and wholly herself.




As the only heir to the throne, Marni should have been surrounded by wealth and privilege, not living in exile-but now the time has come when she must choose between claiming her birthright as princess of a realm whose king wants her dead, and life with the father she has never known: a wild dragon who is sending his magical woods to capture her.

Fans of Bitterblue and Seraphina will be captured by A Creature of Moonlight, with its richly layered storytelling and the powerful choices its strong heroine must make.
My Thoughts:
Long ago, a princess of her realm, was lured into the shadowy woods, but unlike most of the girls who venture there, she came back, but she wasn't alone. She was pregnant and the child she carried was presumed to be the dragons daughter. Her brother the prince, could not condone her existence and killed her for her unspeakable crime, but their father, begged his son to spare the child. And so he did. Ever since the day her gramps whisked her away, Marni lives by the borders of the woods in a small hut with her gramps (the former king) and lives a quiet life tending her flowers and being at peace. But as time passes, Marni grows into a beautiful women and the village lords and lads are taking notice. But they are not the only ones. The woods are moving in, silently but forcefully trying to lure Marni back home. An alliance is suggested, for not only is Marni half-human/half-dragon, she is also the only heir to the kingdom. But she is torn as to where her rightful place should be. Is it with her uncle and his court who never wanted her or with the father she's never meet. Marni must choose her own path and her own fate in this magical tale of two worlds pulling her apart, but where does her heart truly belong?
After reading this story, I had very conflicting emotions.
A
Creatures of Moonlight
, is a fantasy fairytale with a very pretty story and is solely about one girls self-journey to find a place in between two worlds, the kingdom and the woods, who both want her for their own selfish gain. The writing is beautifully captured and quite lovely, but it lacked a dire-effect that I crave for this particular genre. That spark, that moment where I'm completely captured and connected into this world and emotionally dedicated with the characters wants and hopes and needs. This book was like a soothing lullaby, quaint, charming and hauntingly beautiful, but it never had any real adventure, suspense, intrigue or even romance, which quite frankly I was expecting given this featured dragons and other mythical creatures, and while they were all stunningly descriptive, It still felt like the story was hidden underneath all the pretty words and any action took a back-seat. I needed something more tangible for that heart-pounding factor and a challenge for my imagination. I was moved by the surroundings, was touched by the sad stories and even lost myself within the dream-like world, but I was never fully affected by Marni's true purpose. Never felt the emotional impact of all that she lost or how alone she felt. I could grasp what she wished for herself and even found the unfairness of her entire situation. After all, she never asked to be an heir or even a dragon's daughter, but in the end it still felt like it was missing something, even though the story comes to a full circle and nothing more could have been resolved.
With that said, I still very much enjoyed this book for what it had to offer. Which was the stunning writing style. This is Rebecca Hahn's debut novel, and you can tell that she was truly born to write. The pacing and flow could have been more even and the plot could have been more exciting, but her words were like reading poetry in motion, especially when describing the whispering woods. Everything was so crisp and alluring and yet you could still
feel
the dangers and darkness lurking in the same breath. I only wish I could have
seen
it. I also enjoyed that Marni is extremely strong willed and knows exactly what she's always wanted. She's bitter and jaded but she still held herself with dignity and grace. This was especially noticeable when she dealt with her uncle or Lord Edgar's persistence and then later when she confronts her father. She has fire in her veins and she decides her own fate. I was also glad we got to spend a little time in the woods, the entire story felt like a fairytale, but being in the woods made it feel like fantasy and I couldn't help wish I got to spend more time in that space. It was fantastical and I wanted more.
All in all, I rather enjoyed this book, it may not have been the escape I was expecting, but it still had some moments that left an impression. If I take away anything from this experience it would be Rebecca Hahn's writing. This is definitely one author to look out for and I look forward to reading her next book.
Find the author:
Goodreads / Website 3.5 Snowflakes