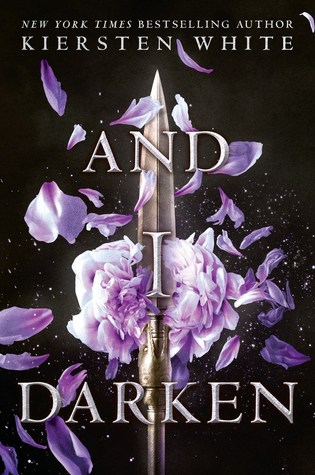 And I Darken
by Kiersten White
Publisher: Delacorte Press
Release Date: June 28th, 2016
Purchase:
Amazon
/
NO ONE EXPECTS A PRINCESS TO BE BRUTAL.

And Lada Dragwlya likes it that way. Ever since she and her gentle younger brother, Radu, were wrenched from their homeland of Wallachia and abandoned by their father to be raised in the Ottoman courts, Lada has known that being ruthless is the key to survival. She and Radu are doomed to act as pawns in a vicious game, an unseen sword hovering over their every move. For the lineage that makes them special also makes them targets.

Lada despises the Ottomans and bides her time, planning her vengeance for the day when she can return to Wallachia and claim her birthright. Radu longs only for a place where he feels safe. And when they meet Mehmed, the defiant and lonely son of the sultan, who's expected to rule a nation, Radu feels that he's made a true friend—and Lada wonders if she's finally found someone worthy of her passion.

But Mehmed is heir to the very empire that Lada has sworn to fight against—and that Radu now considers home. Together, Lada, Radu, and Mehmed form a toxic triangle that strains the bonds of love and loyalty to the breaking point.
My thoughts:
I absolutely love this! I've seen a few books where there has been a gender swap, but this one did it so right and in such a way that I honestly think I prefer this version.
Kiersten White has definitely found her niche with this story. I really enjoyed her previous series, Mind Games, but this one really grabbed me and pulled me in. The story was really fun and something I didn't expect. This has been compared to Game of Thrones, but I think this is actually pretty different. I can see a few comparisons like the brutal world that Lada lives in, but for the most part the stories aren't all that similar and And I Darken definitely stands out on its own without the comparison. I think people will be shocked at how dark this is, but they will love it just as I did.
Lada was a great character and I loved how strong she was. I have to say what she went through was heartbreaking. She didn't deserve what happened to her and it was just because she was a girl. Not cool! I loved how fierce she was though and how she overcame her hardships. She used that hate and turned it into strength and man was she dark and awesome! I love books and characters like this!
I think my favorite thing about this was the setting and history that White has woven into the story. It was truly brilliant and pulled me into the story so much more than just the overall plot. Don't get me wrong I loved the plot (except the love triangle. That I loathe but I can forgive the author since I love her and I have hope it will be a quick triangle.) but I loved the setting. It was rich and vivid and totally showed Whites creativity off!
I have said before that this is the year of the fantasy books and And I Darken is definitely one to add to your list for this year! It was amazing and I can't wait for the sequel!!
4 snowflakes