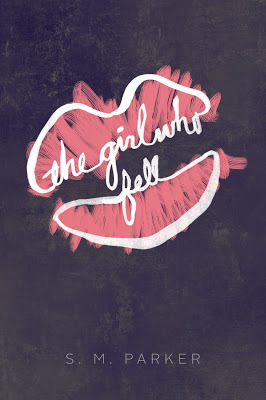 The Girl Who Fell by Shannon M. Parker
Publisher - Simon Pulse
Release Date - March 1st, 2016
Pre-order -
Amazon
/
B&N
His obsession.




Her fall.





Zephyr is focused. Focused on leading her team to the field hockey state championship and leaving her small town for her dream school, Boston College.





But love has a way of changing things.





Enter the new boy in school: the hockey team's starting goaltender, Alec. He's cute, charming, and most important, Alec doesn't judge Zephyr. He understands her fears and insecurities—he even shares them. Soon, their relationship becomes something bigger than Zephyr, something she can't control, something she doesn't want to control.





Zephyr swears it must be love. Because love is powerful, and overwhelming, and … terrifying?





But love shouldn't make you abandon your dreams, or push your friends away. And love shouldn't make you feel guilty—or worse, ashamed.





So when Zephyr finally begins to see Alec for who he really is, she knows it's time to take back control of her life.





If she waits any longer, it may be too late.
My thoughts:
This book has been one of my expected titles for 2016 ever since I heard about it, and now that I have read it, I want to pat myself on the back, because I PICKED GOOD. This book was definitely worth all of the excitement because it was amazing and something I feel like I've been looking for for a such a long time!
Before I get into anything else, I need to tell you that THIS BOOK HAS ICE HOCKEY PLAYERS. I am a massive ice hockey fan and think there are far too few YA contemporaries with hockey player love interests when compared to for example football players or baseball players. As a hockey lover, reading about hot hockey players was a lot of fun. But don't get me wrong, you don't have to be a hockey fan to enjoy this. It just adds a nice bonus to it.
Zephyr is all about focus. She wants to lead her field hockey team to a state championship. She wants to get into Boston College. She knows that to get through those things, she just needs to get through her senior year of high school, and then her life can truly begin in the dream college. A relationship with the new guy in school is definitely something Zephyr did not plan on getting herself into. But when she meets Alec, the goalie for the school's hockey team, she cannot resist him. Not only is Alec extremely handsome and charming, he also seems to understand Zephyr in a way no one else has ever understood her. It almost seems like Alec ALWAYS has the right words.
What first seems like an innocent crush very quickly evolves into something Zephyr has never experienced before. Zephyr feels like she is completely in love with Alec and justifies ignoring everyone and everything with that. She has never been in love before, but she is sure this is what is should feel like. But while she feels a connection towards Alec, she wonders whether feelings of love always come with feelings of fear, embarrassment and shame. Does being in love mean that she needs to give up everything she has been focused on just to keep being in love?
The interactions between Zephyr and Alec are so intense and in some ways brought into my mind the movie Sleeping with the Enemy starring Julia Roberts. The way Alec's facade starts to crumble down as the novel processes is extremely well paced by Shannon M. Parker, and the way the relationship deepens made it impossible for me to put this book down. Though, fortunately, what Zephyr goes through is something I haven't experienced, it is so easy to understand her actions. We all have had crushes and when Alec shows up, I totally get why Zephyr makes the decisions she does. It would be so easy to be the kind of reader who thinks "BUT WHY DOES SHE DO THAT? WHY DOES SHE NOT SEE WHAT HE IS LIKE?", but really, this book sucks you in and makes you walk in the shoes of Zephyr which helps in understanding her actions.
The novel starts with an excerpt from the end of the novel which instantly builds up on the intensity and makes it very easy for you to dive into the story. Shannon M. Parker has brilliantly chosen what to reveal about the end at the beginning - she does not reveal too much, but rather just the right amount to catch the attention of the reader. Throughout, the writing is beautiful, engaging and at points, terrifying.
Before I finish this review, I must say something about the gorgeousness that is Gregg, Zephyr's friend and the star of the hockey team. As I kept reading about it, I kept falling more and more in love with him. He is cocky and funny, but also extremely caring and has that softer side that he only shows for a selection of people. Though I am happy with the way this book ended, I definitely wouldn't object to read more about Gregg.
The Girl Who Fell is incredibly well-paced, beautifully written and slightly terrifying tale of falling in and out of love for the first time.
5 snowflakes