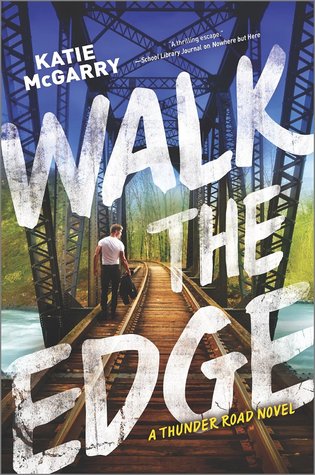 Released

- March 29th 2016
One moment of recklessness will change their worlds
Smart. Responsible. That's seventeen-year-old Breanna's role in her large family, and heaven forbid she put a toe out of line. Until one night of shockingly un-Breanna-like behavior puts her into a vicious cyber-bully's line of fire—and brings fellow senior Thomas "Razor" Turner into her life.
Razor lives for the Reign of Terror motorcycle club, and good girls like Breanna just don't belong. But when he learns she's being blackmailed over a compromising picture of the two of them—a picture that turns one unexpected and beautiful moment into ugliness—he knows it's time to step outside the rules.


And so they make a pact: he'll help her track down her blackmailer, and in return she'll help him seek answers to the mystery that's haunted him—one that not even his club brothers have been willing to discuss. But the more time they spend together, the more their feelings grow. And suddenly they're both walking the edge of discovering who they really are, what they want, and where they're going from here.
My Thoughts:
Katie McGarry's edgy contemporary series,
Thunder Road
, continues to do stupid things to my heart. I loved her Pushing the Limits series, but I think I love these books even more. They have an intensity to it that combines sizzling romance and a stronger sense of loyalty and dedication that goes above and beyond and I freaken love that!
I'm not sure I remember Razor all that much in the first book,
Nowhere but Here
, but then again I may have been distracted by the Oz & Emily- love, but no worries, I know exactly who Razor is now!
Still torn up from his mother death, Razor is having a hard time dealing and it doesn't help that a detective is opening up fresh wounds by claiming that his mothers death may not have been an accident after all, but murder and Razor thinks that the Terror's are keeping secrets or worse, have something to do with it. Razor doesn't know what to believe but he's going to get answers and find help in the last place he ever thought to look.
Determined to start her senior year with a new look and attitude Breanna Miller wants to let loose and be remembered for something other then her vast intelligence and killer memory, but when a guy from school asks Breanna to help him cheat in English class and she refuses, Breanna becomes a victim to blackmail and cyber-bullying. Breanna is in need of a bodyguard and bad-boy-biker Thomas Turner (aka Razor) is just the Terror that will have her back. Whether she likes it or not.
Yup, I'm totally in love with this series! I mean
dame
!! McGarry has one helluva gift when drawing out the perfect amount of chemistry and heat that she gives to her characters and a really knack for writing edgy, bold and an addicting plot that has me completely consumed from start to finish
Razor is my kind of bad boy. He has cool, confident and cunning down cold, but really there are so many levels to this guy which I loved since he felt more realistic and raw. He's loyal but confused with the Reign of Terror and the brotherhood. Mourning and messed up from his mothers death and rattled by his own feeling for a girl who doesn't live in his world, but through it all Razor's passion and strength was really the heart of this amazing story.
So, if Razor is the heart, then Breanna is the definitely the soul. Being the 5th child out of 9, Breanna Miller has more then her share of responsibly but her family tends to overlook her and her siblings aren't always kind, but she sees something in Razor that goes beyond the club and the rumours and the stereotypical image. I really loved Breanna and thought she was the prefect girl to tame someone like Razor, someone who can bring him back to life and love him for him. I loved her feisty attitude, her amazing intelligence and her remarkable courage.
As for the romance? It was absolutely delicious in all the right places. It's not exactly a forbidden love story, but it does cross the lines, throws you over that edge and it's thrilling, exciting and sexy as hell.
I also really loved all the other characters but it was wonderful to see that Olivia is still making an impact. She was such a force in the first book and it's great to see that her memory is still very much alive.
Bottom line, Walk the Edge is a sensational installment in the
Thunder Road
series. I'm still a little surprised that I find these books so dame entertaining since I'm not a huge fan of biker-type books, but this definitely works for me and I'm having a blast with these Terror's and the women that steal their hearts. Gimme More!!