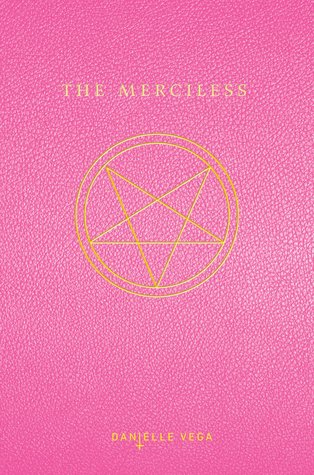 The Merciless
by Danielle Vega
Publisher: Razorbill
Release Date: June 12, 2014
Purchase:
Amazon
Forgive us, Father, for we have sinned

Brooklyn Stevens sits in a pool of her own blood, tied up and gagged. No one outside of these dank basement walls knows she's here. No one can hear her scream.

Sofia Flores knows she shouldn't have gotten involved. When she befriended Riley, Grace, and Alexis on her first day at school, she admired them, with their perfect hair and their good-girl ways. They said they wanted to save Brooklyn. They wanted to help her. Sofia didn't realize they believed Brooklyn was possessed.

Now, Riley and the girls are performing an exorcism on Brooklyn—but their idea of an exorcism is closer to torture than salvation. All Sofia wants is to get out of this house. But there is no way out. Sofia can't go against the other girls . . . unless she wants to be next. . . .

In this chilling debut, Danielle Vega delivers blood-curdling suspense and terror on every page. By the shockingly twisted end, readers will be faced with the most haunting question of all: Is there evil in all of us?
My Thoughts:
OMG okay you have to give me a minute to slow my heart! This book was horror at its finest and exactly what I have been looking for! It's gory, insane, brutal and just so in your face that it really should come with a warning! My kind of book!
So basically in a nutshell Merciless is about a new girl (Sofia) who is befriended by a group of girls that pride themselves on being pure in Gods eyes. When Riley (the head girl) gets cheated on she takes matters into her own hands and decides she needs to exorcise Brooklyn's (girl who was involved in the cheating) demons. Well things go from just crazy to downright call the insane asylum nuts in about 2.2 seconds!
This book was a cross between The Craft, Carrie, The Crucible and Mean Girls. It took all the things that we all loved about each movie and threw them together to create an amazingly creepy tale that I know will stay with me. Riley does some pretty violent stuff and yes you will have to realize this is fiction. Would half of this stuff really happen no of course not but if you can let reality go and you love scary then this book is for you. I never knew who was the bad guy! Was it Riley because of all her crazy stunts or was Brooklyn really possessed by a demon and on a killing spree??
The culprit isn't shown until the very ending and if you think you know how this story plays out think again my friend. That very last page has left me with a huge WTH moment and yes I might have had a crazy MUAHAHAHA laugh. That ending has to be one of my favorites of all time! Brilliant!
I will say one word of warning here. This book has a ton of religion in it and while it didn't bother me it might bother some. I didn't feel preached to so that helped me see past all of that stuff and honestly the religion has to be in the story. It is the central reason behind a lot of what goes on and the story wouldn't have been the same without it.
So if you are like me and just want a little more creepy on your shelves then this is for you. The characters are all pretty insane and well I loved it what can I say. I also appreciate the little romance thrown in. Not sure it completely fit with the story, but it was a nice side touch. I really liked Charlie and I am glad he was pretty much left out of all the craziness. I like that this book revolved just around the girls.
4.5 Snowflakes
*ARC sent by publisher in exchange for honest review*