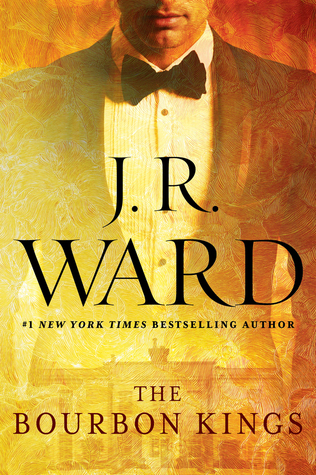 The Bourbon Kings
by J.R. Ward
Publisher: Penguin Publishing Group
Release Date: July 28th, 2015
Purchase:
Amazon
The #1 New York Times bestselling author of the Black Dagger Brotherhood delivers the first novel in an enthralling new series set amid the shifting dynamics of a Southern family defined by wealth and privilege—and compromised by secrets, deceit, and scandal....

For generations, the Bradford family has worn the mantle of kings of the bourbon capital of the world. Their sustained wealth has afforded them prestige and privilege—as well as a hard-won division of class on their sprawling estate, Easterly. Upstairs, a dynasty that by all appearances plays by the rules of good fortune and good taste. Downstairs, the staff who work tirelessly to maintain the impeccable Bradford facade. And never the twain shall meet.

For Lizzie King, Easterly's head gardener, crossing that divide nearly ruined her life. Falling in love with Tulane, the prodigal son of the bourbon dynasty, was nothing that she intended or wanted—and their bitter breakup only served to prove her instincts were right. Now, after two years of staying away, Tulane is finally coming home again, and he is bringing the past with him. No one will be left unmarked: not Tulane's beautiful and ruthless wife; not his older brother, whose bitterness and bad blood know no bounds; and especially not the ironfisted Bradford patriarch, a man with few morals, fewer scruples, and many, many terrible secrets.

As family tensions—professional and intimately private—ignite, Easterly and all its inhabitants are thrown into the grips of an irrevocable transformation, and only the cunning will survive.
My thoughts:
This is another time where I just have to post an adult review! The Bourbon Kings by J.R. Ward was fantastic and I think our older readers should definitely know about this book!
I've been a long term fan of Ms.Wards and while her BDB series has taken a somewhat wrong turn for me I couldn't let The Bourbon Kings go unread. This book totally surpassed my expectations and brought me back to the Ward that I love and adore!
This is as most have described it. A little bit Dallas, a little bit soap operaish, and at its core a romance. With Wards BDB series I love the romance part of it and her unique ability to craft a family I want to live in. What I didn't like was the Lesser part because well they are icky. The Bourbon Kings takes everything I love about her BDB series and adds in amazing drama that kept me hooked from the get go without the icky Lessers.
I admit I loved soap operas back in the day so this is definitely up my alley, but I think it's more than just that that I loved. The way Ward writes her characters is just amazing and even the messed up ones I rooted for...and yes there are some pretty messed up characters. I thought the whole Southern thing was done very well and I could honestly picture each and every scene that was written. I think Ward has most definitely found her home with this genre!
There were two things that bothered me. One being that Lane kept a very vital piece of information from Lizzie. I think if he had told her upfront a few scenes and drama could have been avoided, but seeing as how Lizzie needed to trust him I can see why it was written the way it was. The other being I would have liked to have seen more of Lane's father. He played a huge role in this book and I would have liked a few more scenes with him.
Other than those two things I absolutely loved this and found myself addicted to the writing, story, and characters. I cannot wait for the next installment as I have to know what's around the next corner for Lane, Lizzie, Edward, Max, and Gin.
4.5 snowflakes