Today on WinterHaven Books we have the amazing Rachel Caine with us!! She has graciously answered a few of my questions and I have to say her answers are some of my favorites ever! Take a look!
1. Ink and Bone really made me think about how it is more common now to see someone reading an electronic device rather than holding a physical book. Do you think your story could become a somewhat reality for our world later in the future?
I don't think it will ever become a complete reality; print will always have a place, especially since data, by its very natural, is even more ephemeral and subject to destruction. Plus, we have printed books, reproduced and available, so I don't think the situation of the Great Library will be quite the same. But I do foresee a possibility that a monolithic retailer like Amazon will drive print bookstores to the brink, then (as they already are doing) seek to force publishing companies out as well, to control authors directly. Once that happens, and we have one "outlet" for our work ... anything can happen.
I'm not saying Amazon is evil. I'm saying that competition is always good for creators.
2. Your story was very dark at times and I personally loved it. Will the future books in the series stay with the same dark tone?
Yes, very likely. Jess's situation is that he is seeing the dark side of the Library, and though we will also see the bright side, the one full of passionate idealists and bravery, there's no doubt he's up against enemies willing to go to any extreme to preserve their power, under the guise of the good of everyone. I can't see that's going to be easy.
3. Who was your favorite character to write?
I go back and forth, but I love a good, snarky character. Jess has his own brand of sarcasm, which I love, but Scholar Wolfe definitely has them all beat for that particular acidic brand of humor. So I love him as well.
4. I am completely heartbroken over the ending! Did you know from the beginning how things would turn out the way they did for each character?
It was a hard choice, but I did know, and though I knew it would give the book a real darkness, I felt it really was necessary to take the characters all the way to the edge. Without giving anything away, though, there are still some surprises to come in Book 2.
5.You created a mind blowing and intricate world. How much research and planning did you do throughout your writing process?
It's a story about 10 years in the making, quite honestly, though for about 9 years of it, it was shiftless and lazy and unformed. I had elements but no unifying idea. It wasn't until 2013 that I really began to put the pieces together, and realized I had a lot of work to do to make this very different world credible, but also convey it in ways that didn't distract the reader too much from the story. So I crafted it over time, and at each point, I kept altering and refining my choices so that the world developed naturally from the decisions the Library itself made. You have to really shape the world around the points of power, and what people will do to hang onto it, so that helped me create the world in which Jess lives.
Thank you very much for these wonderful questions, and I hope you enjoy the rest of Jess's epic adventure!
Rachel
Rachel thank you so much for stopping by!! This is truly a highlight of my blogging career! I can't wait to see more of Jess!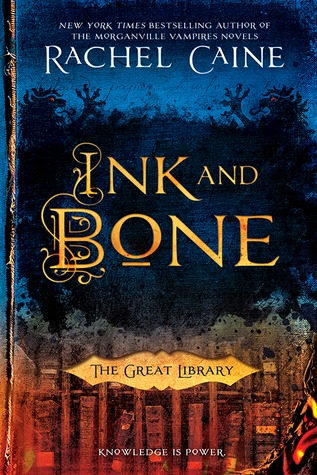 Ink and Bone (The Great Library, #1)
by Rachel Caine
Publisher: NAL
Release Date: July 7th, 2015
In an exhilarating new series, New York Times bestselling author Rachel Caine rewrites history, creating a dangerous world where the Great Library of Alexandria has survived the test of time.…

Ruthless and supremely powerful, the Great Library is now a presence in every major city, governing the flow of knowledge to the masses. Alchemy allows the Library to deliver the content of the greatest works of history instantly—but the personal ownership of books is expressly forbidden.

Jess Brightwell believes in the value of the Library, but the majority of his knowledge comes from illegal books obtained by his family, who are involved in the thriving black market. Jess has been sent to be his family's spy, but his loyalties are tested in the final months of his training to enter the Library's service.

When he inadvertently commits heresy by creating a device that could change the world, Jess discovers that those who control the Great Library believe that knowledge is more valuable than any human life—and soon both heretics and books will burn.…
My thoughts:
Ink and Bone was such a unique read. Going in I was super excited because the premise sounded absolutely amazing and I am very happy to report that my expectations were totally met and exceeded.
This story is about books which for any reader is well awesome. In the beginning we learn that Jess works for his family and is a smuggler of rare books. He hides them underneath his clothes and runs routes to his customers. If caught the punishment is death because all books must stay in the Library. If you have a Codex (an electronic device) you can read just about any book, but people crave the feel of a real book an sometimes go to extreme measures to get their hands on them. Jess knows this is a dangerous business so when his Dad says he has to go to the Library as part of their program to hopefully secure a job he's somewhat relieved. Even though he knows he will still have to help his family and that his dad does have ulterior motives, he still wants to go because he loves books. What happens isn't what he expected and by the end being inside the Library might be just as dangerous as being on the outside.
I will say that while reading this I did get a George R.R. Martin feeling because every time I turned around the cast of characters dwindled. Rachel Caine is fearless in her writing and honestly I'm a little scared to pick up the sequel. As with most dystopianish books there are always causalities and usually I am okay with them, but with this story I just don't want to lose anybody else. Jess and his crew are so special and it will truly break my heart of anything happens to them. I know things will happen though because Caine proved she will do what she needs to, but man I'm terrified. This won't deter me from reading the sequel though. I have to know what happens!!
The characters were just amazing. I loved Jess and Morgan especially. They both did what they had to at times and at others they acted human. I am really rooting for them even though I know it will be a long road for them after that ending. I also adored Wolfe and Santi. They were the adults in the story and they acted like them which I appreciated. I honestly would love a prequel so I could see why they are the way they are. I have a feeling their back stories will come out in later books though and that will work too.
Rachel Caine's writing was also phenomenal. This book was around 360 pages and while it did feel long everything flowed. When I say it felt long that's not a bad thing. I love getting lost in books and I find that sometimes books that are around 300 go too quickly. Ink and Bone was not one of these books. It is rich in story and very vivid with details. I loved that it took me an extra few days to finish. This story deserved the extra time.
I was truly amazed with this story. Rachel Caine really made me think that maybe our world will come to this type of future. Not the magic of course, but the whole smuggling physical copies of books. Electronic devices are so huge now that I wonder if somewhere in the not to distant future this could be our reality. If it is I am truly frightened.
Wonderful story that had me grasping for breath!
4.5 snowflakes