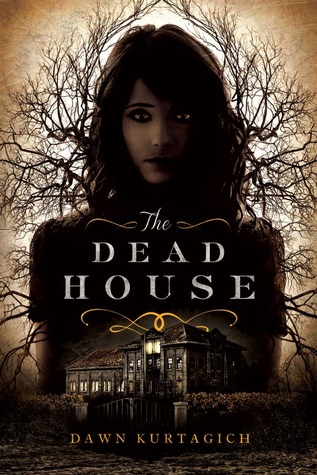 The Dead House
by Dawn Kurtagich
Publisher: Little Brown Books for Young Readers
Release Date: September 15th, 2015
Purchase:
Amazon
Debut author Dawn Kurtagich is dead on in this terrifying psychological thriller!

Over two decades have passed since the fire at Elmbridge High, an inferno that took the lives of three teenagers. Not much was known about the events leading up to the tragedy - only that one student, Carly Johnson, vanished without a trace...

...until a diary is found hidden in the ruins.

But the diary, badly scorched, does not belong to Carly Johnson. It belongs to Kaitlyn Johnson, a girl who shouldn't exist Who was Kaitlyn? Why did she come out only at night? What is her connection to Carly?

The case has been reopened. Police records are being reexamined: psychiatric reports, video footage, text messages, e-mails. And the diary.

The diary that paints a much more sinister version of events than was ever made publicly known.
My thoughts:
I love love love this type of book. The whole journal entry, police transcripts, and camera details really put a creepy spin on an already creeptastic book.
Dawn Kurtagich does an amazing job bringing the reader into the mind of a troubled teen and by the end I wasn't even sure what was real and what wasn't.
Carly and
Kaitlyn share the same body. Carly comes out during the day and
Kaitlyn comes out at night. After reading we quickly find out that Carly is under the care of a psychiatric hospital to help with DID..dissociative identity disorder. We learn that Carly underwent a terrible trauma and in the process of trying to cope she created
Kaitlyn. Except
Kaitlyn has always been a part of Carly even before the accident so what does this mean? This means a crazy creeptastic story that will leave you thinking and shuddering for days.
Like said I loved this story. It was creepy and dark and well that is exactly what I want these days. The romance was there but not front and center. The author let Carly and
Kaitlyn take center stage and I was captivated by them. The way the story is laid out you really don't know if Carly has DID or if she really does have the soul of
Kaitlyn living in her. Her friends step in and try and help, but even they didn't know who to believe.
What I really liked was the way the information was given. It was slow but in a way that when it dropped every time I was like OMG! So many huge things happened throughout and the author was brilliant in her delivery.
The only part I wasn't a fan of was the mythology spin. I don't think the story needed it to be honest. It was strong enough as a psychological thriller and I would have preferred it to stay that way. The author did a great job weaving in the mythology so that made it better, but I just wish it would have been left out. I would love to see a separate book with this type of mythology because it is really interesting and dark as well.
For the creepy fans this is a must read. It has everything you could ask for and more!!