Today on WinterHaven Books we have the amazing Catherine Egan with us! She is stopping by to tell us a little bit about her writing space!
When we moved into our current apartment almost four years ago, I decided I wanted a dedicated writing space, something I'd never really had before. I couldn't claim a whole room of my own, but we bought a little table and a nice ergonomic chair and set it all up in a corner of the living room. My writing nook!
I can't remember now if I ever wrote at that table, sitting in that chair. We quickly ran out of bookshelf space (and space for more bookshelves) so the table looks like this:
And we ran out of coat-rack space / space to put things in general, so the chair usually looks like this:
My writing nook became instead the Corner of Piled Up Stuff, and I write every weekday morning at the kitchen table. The kitchen is actually the biggest and tidiest room in our apartment. I am near the snacks and the coffee. The table is next to the window – not that the view is so tremendous, unless I want to spy on the neighbors (who wisely keep their blinds closed), but I like the light. So my writing space looks like this:
"stickers on computer courtesy of my kids"
And while I haven't lit it yet – I am saving it for a Writing Crisis – I keep this votive candle my awesome sister-in- law sent me on the table as well:
The physical space is less important to me than creating the right mental space for writing. While I used to have to write whenever and however I could, I cherish the routine I have now. I drop the kids off at school, and the ten-minute walk home is enough to clear my mind from the morning rush and get my head back into the story. Back home, I leave the breakfast dishes in the sink and make a huge mug of coffee, thinking about where I left off the day before, what needs to happen, what is or isn't working. Then I sit down at the kitchen table with the coffee and a slab of
dark chocolate, open my computer, and begin.
Thanks so much for sharing your writing space Catherine! It looks really comforting and I LOVE the votive candle!
CATHERINE EGAN grew up in Vancouver, Canada. Since then, she has lived on a volcanic island in Japan (which erupted while she was there and sent her hurtling straight into the arms of her now-husband), in Tokyo, Kyoto, and Beijing, on an oil rig in the middle of Bohai Bay, then in New Jersey, and now in New Haven, Connecticut. She is currently occupied with writing books and fighting dragon armies with her warrior children. You can read more about her at catherineegan.com. Follow her on Twitter at
@ByCatherineEgan.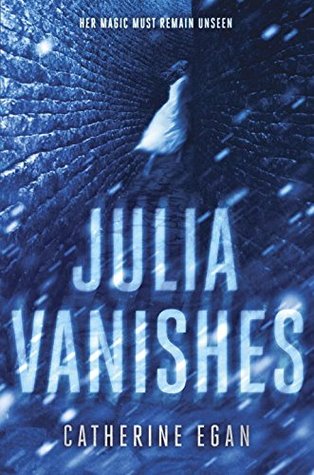 Julia Vanishes
by Catherine Egan
Publisher: Knopf Books for Young Readers
Release Date: June 7th, 2016
Julia has the unusual ability to be…unseen. Not invisible, exactly. Just beyond most people's senses.

It's a dangerous trait in a city that has banned all forms of magic and drowns witches in public Cleansings. But it's a useful trait for a thief and a spy. And Julia has learned—crime pays.

Her latest job is paying very well indeed. Julia is posing as a housemaid in the grand house of Mrs. Och, where an odd assortment of characters live and work: A disgraced professor who sends her to fetch parcels containing bullets, spiders, and poison. An aristocratic houseguest who is locked in the basement each night. And a mysterious young woman who is clearly in hiding—though from what or whom?

Worse, Julia suspects that there's a connection between these people and the killer leaving a trail of bodies across the frozen city.

The more she learns, the more she wants to be done with this unnatural job. To go back to the safety of her friends and fellow thieves. But Julia is entangled in a struggle between forces more powerful than she'd ever imagined. Escape will come at a terrible price.
One lucky reader will receive their very own copy of Julia Vanishes!
Open to US residents only.