Today on WinterHaven Books we are participating in the blog tour for Hexed by Michelle Krys!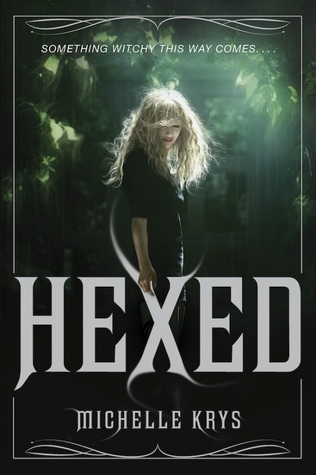 Hexed

by Michelle Krys
Publisher: Delacorte Press
Release Date: June 10th, 2014
Purchase:

Amazon

/

Barnes and Noble
If high school is all about social status, Indigo Blackwood has it made. Sure, her quirky mom owns an occult shop, and a nerd just won't stop trying to be her friend, but Indie is a popular cheerleader with a football-star boyfriend and a social circle powerful enough to ruin everyone at school. Who wouldn't want to be her?

Then a guy dies right before her eyes. And the dusty old family Bible her mom is freakishly possessive of is stolen. But it's when a frustratingly sexy stranger named Bishop enters Indie's world that she learns her destiny involves a lot more than pom-poms and parties. If she doesn't get the Bible back, every witch on the planet will die. And that's seriously bad news for Indie, because according to Bishop, she's a witch too.

Suddenly forced into a centuries-old war between witches and sorcerers, Indie's about to uncover the many dark truths about her life—and a future unlike any she ever imagined on top of the cheer pyramid.
My Thoughts:
Indigo Blackwood seemed like she had it made. She's smart, beautiful, dating the captain of the football team and cheer-leads with her best friend since grade school. Sure, her mom's a bit eccentric with all her witch-talk, but she has social status so who cares. On the way to the Black Cat, where she works in her mothers store, out of no where Indie and Paige witness a guy fall from who knows where and dies right before their eyes. But before a shocked Indie gets back into her car she grabs the rumpled paper the guy was carrying and when she looked to see what was on it stunned her even more. It's the address to her mom's store. Indie may thought she had it made, but things are about to get crazy.
Ha! This book was a hoot! Great witty characters, sharp writing and a storyline that is non-stop action and intrigue! Fun fun fun!
For those of you who knows me, know I love my witch books and this my friends is the good stuff. Here we are faced with a centuries-old enemies, The Family who are witches and warlocks and the Priory who are sorceress. The Family is in charge of preserving and enforcing their race and protect their most treasured relic, The Witch Hunters Bible, but The Priory will stop at nothing to steal it for themselves, for it contains a spell that will gain them the magic they desperately crave. And well, our poor Indigo is stuck in the middle of this unflinching war as well as tries to come to terms that her boyfriend and best friend are sleaze and she just may have magic in her blood after all. Somehow she needs to find way to stop the Priory with her new-found friends and talent.
I really enjoyed Michelle Krys' writing! It's very addicting and a breeze to connect with. I loved the witty-ass laugh-out-loud dialogue. It's always great when a book can make me smile, but I'm not an easy laughter, so this was a real treat. The flavor of the book was also pretty awesome. It's fast paced, action packed, and filled with all those creative and imaginative elements that comes with magic. I also loved that there was enough humor to make it feel laid back but still intense enough to impact us during the more serious and sad moments. Great writing!
I really had a lot of fun with all of these characters. They were well developed and showed great personal growth and struggle.
Indie is pretty kickass character, she's sassy, cunning and brave, but she wasn't always easy to like, or well not at first. She's torn between being her own person and staying between the lines of popular social-behaviours. I didn't care for how she treated Paige or how she holds back from really saying what she wants, but once Indie hits a turning point there really is no looking back and I'm glad she owned up to her faults and flaws and became a different person.
Paige was totally great from the start. She's not afraid to put herself out there or be rejected. She's loyal, caring and the perfect friend.
Bishop was a freaken blast. He's such a brat in that infuriating playful cocky way that you want to slap or hug given the moment.
He provided most of the comedy throughout the story and I absolutely devoured those bantering moments and sarcastic charm.
As for the baddies, well, they all played there parts well. Cold, unforgiving and completely easy to hate.
I thoroughly enjoyed the romance, it was light, gradual and steamy. Great chemistry filled with humorous tension.
I also really enjoyed the ending. We get a bit of a cliffy but it's enough to make me have grabby hands for the next installment.
All in all, Hexed turned out to be a fun filled entertaining escape that has everything I like in my magical paranormal reads. The pace and flow of the story was pitch perfect, there was never a dull moment and all of these characters will have you invested from minute one till it's gripping conclusion. A solid read!
4 Snowflakes