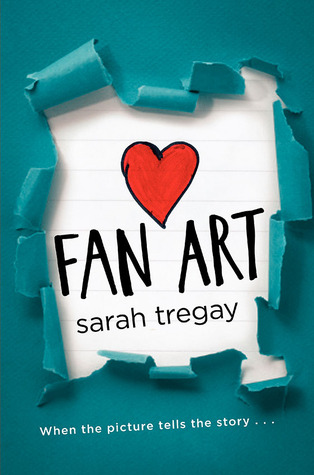 Publisher-
Katherine Tegen Books
When the picture tells the story…

SeniorF year is almost over, and Jamie Peterson has a big problem. Not college—that's all set. Not prom—he'll find a date somehow. No, it's the worst problem of all: he's fallen for his best friend.

As much as Jamie tries to keep it under wraps, everyone seems to know where his affections lie, and the giggling girls in art class are determined to help Jamie get together with Mason. But Jamie isn't sure if that's what he wants—because as much as Jamie would like to come clean to Mason, what if the truth ruins everything? What if there are no more road trips, taco dinners, or movie nights? Does he dare risk a childhood friendship for romance?

This book is about what happens when a picture reveals what we can't say, when art is truer than life, and how falling in love is easy, except when it's not. Fan Art explores the joys and pains of friendship, of pressing boundaries, and how facing our worst fears can sometimes lead us to what we want most.
My Thoughts:
Jamie Peterson has it made. College is all set, he's got a great family, great friends and while he doesn't have a date to the prom yet, that's not really the problem. Jamie has a secret, but he's only keeping it from his best friend, Mason. See, Jamie is gay and he just started to realize that he might be in love with his best friend.
Daww, this was really so sweet.
Fan Art
is the kind of story you just want to hug. It's a story about struggling with your feelings and fear of rejection but it's also about finding the courage to be honest no matter what.
Jamie has a great voice. His conflicts and struggles felt very realistic and I could understand the reason he didn't want Mason to know the truth. Fear does crazy things to the heart and I get that Jamie wasn't ready to potentially lose his best friend. I loved his family! His sisters were precious and his parents are so supportive and amazing and I love how proud of him they were for 'coming out'. I also thought it was really sweet the girls in his art class were so determined to see Jamie happy, even if it did seem like they went to far. The poems and the comic-strip art was a great touch to the story but my favorite moments was the connection between Jamie and Mason. You could tell they both seemed to be into each other but the complications of doubts and fears always seems to win out over being upfront and honest, till that moment where you just know your ready to lay it out there and see where it goes. Mason was a really sweetheart and I loved the subtle little things he would do or say to open Jamie's eyes.
The writing was a bit abrupt and scattered at times and I wish some of the story would have been played out for us instead of told
to
us, but I still enjoyed Sarah Tregay overall style.
All in all, I thought this was just adorable. It's a feel good read that made me smile and made me feel all warm inside, and really, what more can I ask for in an escape? Well done!