Welcome to Teaser Tuesdays! Teaser Tuesdays is a weekly bookish meme, hosted by
MizB of Should Be Reading
. Anyone can play along! Just do the following: Grab your current read Open to a random page Share two (2) "teaser" sentences from somewhere on that page BE CAREFUL NOT TO INCLUDE SPOILERS! (make sure that what you share doesn't give too much away! You don't want to ruin the book for others!) Share the title & author, too, so that other TT participants can add the book to their TBR Lists if they like your teasers! My Teaser Tuesday is for the following...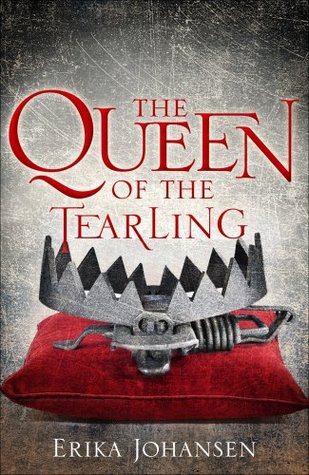 Queen of the Tearling by Erika Johansen
Publisher: Bantam Press
Publication Date: July 17, 2014
Blurb: Kelsea Glynn is the sole heir to the throne of Tearling but has been raised in secret by foster parents after her mother - Queen Elyssa, as vain as she was stupid - was murdered for ruining her kingdom. For 18 years, the Tearling has been ruled by Kelsea's uncle in the role of Regent however he is but the debauched puppet of the Red Queen, the sorceress-tyrant of neighbouring realm of Mortmesme. On Kelsea's 19th birthday, the tattered remnants of her mother's guard - each pledged to defend the queen to the death - arrive to bring this most un-regal young woman out of hiding...
And so begins her journey back to her kingdom's heart, to claim the throne, earn the loyalty of her people, overturn her mother's legacy and redeem the Tearling from the forces of corruption and dark magic that are threatening to destroy it. But Kelsea's story is not just about her learning the true nature of her inheritance - it's about a heroine who must learn to acknowledge and live with the realities of coming of age in all its insecurities and attractions, alongside the ethical dilemmas of ruling justly and fairly while simply trying to stay alive...
Quotes taken from chapter three:
Teaser #1:
"Where's your handsome face today?"
"I'm home now," he replied easily. " No point in dressing up."
(In this short teaser above, a real connection finally had began to surface. I won't mention the male here, however, my interest piqued exponentially.)
Teaser #2:
"I don't understand how I'm supposed to make smart decisions without knowing everything."
"Why dwell on the past, Lady? You have the power to make your own future."
"What of my dolls and dresses?"
"I poked you with a stick to see if you'd fight back. And you did."
"What if I order you to tell me?"
"Order away, Lady, and see how far you get."
(This was another powerful conversation between the protagonist and one of the Queen's Guard. It took me a little time to warm up to him, but as I read further, and the lengths he would go to protect her, I developed respect for the man.)
PLEASE LEAVE A COMMENT with either the link to your own Teaser Tuesdays post, or share your 'teasers' in a comment here if you don't have a blog Thanks!