Today on WinterHaven Books I am excited to be participating in the blog tour for Six Feet Over It by Jennifer Longo! For my stop I have an amazing interview with Jennifer to share with you as well as my review!
Welcome Jennifer!
1. Your book has been out in the wild for a little while now, how does it feel?
2. How did you celebrate on August 26th?
Having the book out in the wild is surreal, as I'm sure most debut authors would say. As I type this, it's been only two days so it's still very new. On Pub day, a wonderful new Seattle writing friend took me out to all the best Indie bookstores in downtown Seattle we could hit in a single afternoon, and she snapped photos of me with the book at every store. It was hilarious and wonderful and so insane! People in the stores said they'd read it and loved it and I cried every time - why I bothered with eyeliner that day is a mystery. I was able to sign some stock and by the grace of the alphabet my book is snuggled quite close on the shelf to E. Lockart's We Were Liars, which... that's enough to make a person's head fall off. I mean, come on! The booksellers were all incredibly kind and funny and took pictures for me and I bought books for my daughter at every store, so everybody won that day! I love that when people ask now, "Where can I get your book? And when?" I can say, "Right now and everywhere!" Instead of, "Oh, in about two and a half years...."
On the evening of Pub day my husband and daughter and I went for Chinese food and they gave me an antique inkwell with the title and date engraved on the silver cap, which is now housed in a place of honor on my writing desk. I'm typically not a fan of things but that is a treasure. My daughter was most excite about the fact that it was also the pub date for the new Mine Craft book and I had bought it for her while signing copies of Six Feet Over It. I tell you what, that Mine Craft book is quite a compelling narrative about people digging really deep holes, and also there are glass windows and you can forge silver to make a sword. Eleven-years-olds. They are awesome.
3. I really enjoyed that your book strayed from the typical YA contemporary formula. In five words describe what readers can expect from Six Feet Over It since it is very different.
SIX FEET OVER IT in five words: Finding Death's place in life.
4. Do you have any book tour information you can share? *crossing my fingers for Austin*
I do have some early tour info! I would LOVE to come to Austin, any booksellers interested! Call/email me! Currently, my schedule is as follows, and this is on my blog as well:
*Saturday, September 6th 1pm Barnes and Noble Booksellers on Arden Way in Sacramento, California (Reading/Signing)
*Sunday, September 14th at 3pm Launch Party at Island Books, Mercer Island Washington. (Reading, Signing, Cupcakes, Champagne)
*Saturday, October 4th at 10am I'm on a panel on writing YA at the Seattle Public Library (Books, Signing) in Seattle, Washington.
*Wednesday, October 8th at 7pm Reading for Suzy Vitello's launch of her new book, The Empress Chronicles at Powells' Books Cedar Hills Crosssing, Portland, Oregon.
*Thursday, October 9th (Time TBD) with Suzy again at Elliot Bay Book Company in Seattle, Washington.
*Monday, October 13th 8pm, I'm a telling a story at Porchlight SF as part of Lit Quake San Francisco at the Verdi Club in San Francisco, California.
*Thursday, October 23rd I'm reading as part of Seattle's Lit Crawl (Evening, Exact location and time TBD)
Um. I didn't realize till I just wrote that how many events I'm doing with this book. That is awesome, and also OMG.
5. In all of the release date craziness what has been your favorite moment?
Release date craziness favorite moment: There is a book seller name Justus at Elliot Bay, and when I went in, she was kind enough to say she loved the book, really really loved it, and I got to sign a copy for her and I thought, "That's it. That is the entire reason a person tells a story, writes a book, or a play – for even one person to love it this much." I know what it is to finish a book, and to just think, Thank you, Author. Thank you so much for that. Maybe that's what Justus thought, or some variation of that. And now as an author, I can say honestly, Thank you, Reader. Thank you so much for that. Also, a bonus type of moment – I kept randomly throughout the day bursting into 'I cannot believe this is happening' tears, and my dear friend and fellow writer Jet Harrington, who took me on this Seattle Pub Day tour (and to lunch and to Molly Moon's ice cream OMG) would sense the meltdown coming before the tears came and would grab me and hug me so I wouldn't fall apart. She made it a completely perfect day. Okay, see now I'm tearing up again. Launching a book really messes with a person's emotions!
Jennifer thank you so much for stopping by! It has truly been a pleasure having you here!
Thank you so much, this was wonderful! Another high point in the publishing journey for sure!
Must find a bookstore in Austin to add to your line up! I'm totally making calls!!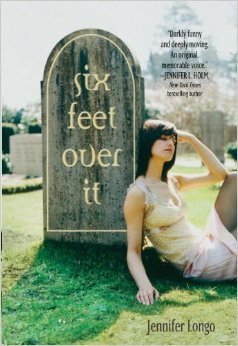 Six Feet Over It
by Jennifer Longo
Publisher: Random House Books for Young Readers
Release Date: August 26th, 2014
Purchase:
Amazon
Darkly humorous and heart-wrenchingly beautiful, Jennifer Longo's YA debut about a girl stuck living in a cemetery will change the way you look at life, death, and love.

Leigh sells graves for her family-owned cemetery because her father is too lazy to look farther than the dinner table when searching for employees. Working the literal graveyard shift, she meets two kinds of customers:

Pre-Need: They know what's up. They bought their graves a long time ago, before they needed them.

At Need: They are in shock, mourning a loved one's unexpected death. Leigh avoids sponging their agony by focusing on things like guessing the headstone choice (mostly granite).

Sarcastic and smart, Leigh should be able to stand up to her family and quit. But her world's been turned upside down by the sudden loss of her best friend and the appearance of Dario, the slightly-too-old-for-her grave digger. Surrounded by death, can Leigh move on, if moving on means it's time to get a life?
My Thoughts:
I've talked before in previous reviews how contemporary is such a tough genre for me. The only ones that tend to work for me are ones that don't include a love interest and instead focus on issues besides romance.
Six Feet Over It
thankfully had a different focus.
This story is basically about a teenage girl trying to figure out where she fits in with her interesting family. Between her older sister who is in remission, her crazy dad who just moved the whole family to run a cemetery, a mother is grows more and more distant, and a best friend who isn't there anymore Leigh isn't sure where she fits into all this craziness.
The first thing that struck me while reading this is how sad it was that Leigh felt so much guilt. Every bad thing that happened to her she somehow felt like it was her fault. My heart just broke for her. No one should every feel like that especially not a fifteen year old girl. Things happen in life and well Leigh had to deal with more than her fair share. She was a tough cookie though I have to give her that. I hated that she pushed everybody away, but I understood why she did. If everyone you loved left wouldn't you do the same? Things change for her when Dario, the new gravedigger, starts working and working his way into her heart as a friend. Leigh really needed him and I think he knew that. Elanor was another friend that Leigh needed, but her role was different than Dario's. Overall this cast really had a wonderful balance.
The one problem I had with this story were her parents. If I could take out her parents involvement this read would have probably been a 5 star for me. As it is though they are in it and man I just don't even know where to begin. I said before that her family was crazy, but really they were neglectful. Leighs' mom takes off more times than I can count to spend time in their old seaside home and her dad basically makes her run the office by herself. This leaves her dealing with families who are in need of burial plots. Not what a fifteen year old should be doing or expected to do. It gets so bad that by the end of the story she is running the office. If she had wanted to do this on her own that's one thing, but her dad just makes her. Her sister Kai isn't expected to do anything and I am guessing its because she is in remission. Okay well that brings up a whole other topic actually. Why in the world did their dad buy a cemetery when his daughter was on the brink of death. I'm sure this wasn't the most positive climate for Kai. I'm not quite sure what to make of that, but I'll move on. Leigh's parents really needed to step up and be parents. Both daughters were going through things and it was so heartbreaking to see each of them not have a mom or dad to lean on.
Aside from the parents I did really enjoy this story. I enjoyed seeing Leigh grow and accept certain things in her life. I wish one thing would have been in this story though. There is a particular situation that I think Leigh really needed closure on and after discovering certain things I think a great opportunity was lost within the story. I would have really liked to have seen Leigh have just one conversation with a certain person. I know that is vague, but if you read this then you will understand. Again though aside from that I did enjoy living in Leigh's world and I am definitely going to keep my eye out for future novels from Ms. Longo.