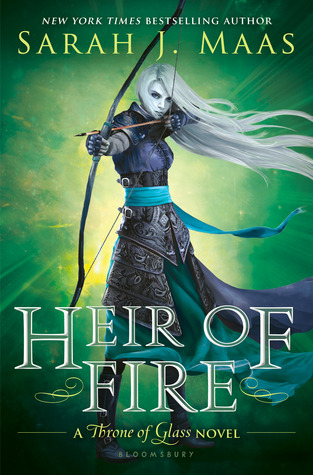 Heir of Fire by Sarah J. Maas
Publisher-

Bloomsbury USA Childrens
Realeased- Sept 2nd 2014
Purchase- Amazon / B & N
Lost and broken, Celaena Sardothien's only thought is to avenge the savage death of her dearest friend: as the King of Adarlan's Assassin, she is bound to serve this tyrant, but he will pay for what he did. Any hope Celaena has of destroying the king lies in answers to be found in Wendlyn. Sacrificing his future, Chaol, the Captain of the King's Guard, has sent Celaena there to protect her, but her darkest demons lay in that same place. If she can overcome them, she will be Adarlan's biggest threat – and his own toughest enemy.

While Celaena learns of her true destiny, and the eyes of Erilea are on Wendlyn, a brutal and beastly force is preparing to take to the skies. Will Celaena find the strength not only to win her own battles, but to fight a war that could pit her loyalties to her own people against those she has grown to love?
My Thoughts:
Heir of Fire
,
is the third instalment in the

Throne of Glass

series and starts off where

Crown of Midnight

ends. I have to admit, I liked the first two books a little tiny bit more, but I think that's only because I'm an impatient reader and wanted to get back to certain storylines played out for my favourite characters and the on-hold was kinda killing me. But I understand that plots must be thickened, conflicts must endure and inevitable fate must be followed. So I sucked it up, let the story pull me along and was once again rewarded and left speechless and in awe of everything Maas brought to this epic high fantasy fantastical adventure.
Sarah J. Maas, continues to deliver complex emotion with pulse pounding action and unstoppable adventure. There is so much going on her plot wise, I wouldn't even know how to sum it up. Celaena is warped by grief and even though she was sent to Wendlyn, she has another agenda other then doing the Kings bidding, while Choal is still trying to survive the aftermath of everything he's learned. But that's only a little parts of what this book holds. This definitely felt different compared to the first two. It's more intense, dire, darker and grander. New characters are introduced who are all intriguing and brought something specifically unique into the storyline and how they impact are already established characters. There is magic, madness and monsters. There is evil. There is power. But there is also a lot of hope, friendship and love.
If there was one word I would use to describe Celaena Sardothien, it would be fearless, but we see a broken vulnerable side to her that shattered my heart. I never new the kind of pain, suffering and lost she endured. I may have suspected it, but never realized the depth of what she's been through. The scene with the Valg prince nearly undid me, and yet, Celaena still becomes an even more powerful force then I could have ever imagined. Her new-found powers makes me excited and thrilled for the anticipated ass-kicking she's going to inflict in future books. Bring it!
Choal was very conflicting in this book. He's haunted by the secrets of who and what Celaena is and what it means for the kingdoms and also torn with the knowledge of Dorian's secret as well. I can't say I cared for his distance, but I'm glad he remained loyal to his prince and the women he loves.
Dorian has always earned my respect, but after this instalment he's also earned my undying love. My heart is in pieces for what his sorry excuse of a king and father did to him at the end and I'm gutted for what will happen next and only pray for retribution.
I really liked the new characters; Sorscha, Aedion, Manon and Rowan. Given that this is the third book in a planed six-book series, I was surprised how fast I was taken with the new cast, but they are a very welcoming addition none the less.
Aedion Ashryver, is Celaena cousin and I absolutely loved his fierce loyalty to his true queen. He's a riveting character and I predict he will be an essential asset and ally to this growing series.
Rowan is a warrior prince and bound to Maeve the Fae Queen. He's a total badass and by far my favourite part of this book. I love him so much. Yes, be beats the ever living crap out of Celaena. Constantly. But his 'don't put up with anything' attitude was both amazing and amusing. Still, I think this was exactly what Celaena needed, even if she didn't know it at the time. What they ended up meaning to each other was beautiful and moving. They are a united force that I am greatly looking forward to seeing in action.
Sorscha was an interesting character and I liked what she and Dorian shared, but to be honest, she felt more like a pawn to be used at the right moment to ensure a necessary reaction more then anything else, and I'm not sure how to feel about that.
Manon was the only character I didn't really care for. She's brilliant and vicious mind you, but her point of view felt out of place and while I though she and her clan will be more interesting and important for future books, I didn't find it necessary for this particular instalment.
Bottom line. Heir of Fire was another powerful addition to this extraordinary world. It's filled with the kind of epic you crave for in a high fantasy escape. It's filled with so much power, magic, suspense and chocked full of heart-stopping, jaw dropping action. The ending blew.my.freaken.mind and my head and heart is still buzzing from everything that's happened. Apart of me wants to hold off till the rest of the series is done since I can't handle all these evil cliffhangers but the other part of me is screaming for MORE! An incredibly addicting as hell epic read!
Find the author:
Goodreads / Website 4.5 Snowflakes