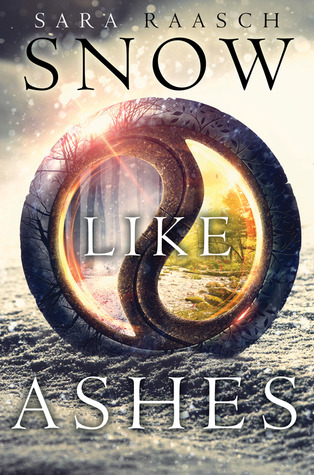 SNOW LIKE ASHES by Sara Raasch
Publisher: Balzer + Bray
Expected Publication Date: October 14, 2014
A heartbroken girl. A fierce warrior. A hero in the making.



Sixteen years ago the Kingdom of Winter was conquered and its citizens enslaved, leaving them without magic or a monarch. Now, the Winterians' only hope for freedom is the eight survivors who managed to escape, and who have been waiting for the opportunity to steal back Winter's magic and rebuild the kingdom ever since.





Orphaned as an infant during Winter's defeat, Meira has lived her whole life as a refugee, raised by the Winterians' general, Sir. Training to be a warrior—and desperately in love with her best friend, and future king, Mather — she would do anything to help her kingdom rise to power again.





So when scouts discover the location of the ancient locket that can restore Winter's magic, Meira decides to go after it herself. Finally, she's scaling towers, fighting enemy soldiers, and serving her kingdom just as she's always dreamed she would. But the mission doesn't go as planned, and Meira soon finds herself thrust into a world of evil magic and dangerous politics – and ultimately comes to realize that her destiny is not, never has been, her own.
My Thoughts:
Snow like Ashes is unlike anything I've read in quite a while. It was engaging and unique. Meira was an infant when the Kingdom of Winter was conquered and enslaved. Meira and the other remaining survivors are on a mission to retrieve the ancient locket and restore Winter's magic.
This was a wonderful concept utilizing the four seasons as Kingdoms as well as Rhythms, along with the magical elements woven into this story.
We instantly get swept into the lives of the eight
surviving members of the Winter Kingdom. Meira, who we learn quickly has a a crush on Mather, and an orphaned soldier-in-training. Mather, the future king. Sir, who trains and leads the group. Alysson, Sir's wife, who is gentle and loving. Greer, Finn, Henn, and Dendera. They live in tents in the Rania Plains which is barren, dry, and hot. It's a territory none of the eight kingdoms of Primoria wants to claim. And a great hiding spot for the eight.
It's been sixteen years since King Angra Manu of Spring broke and destroyed Winter's conduit (which is a locket.) The lockets are male or female-blooded conduit. And since Winter's is a female-blooded conduit, Mather struggles with the fact that he couldn't use it to help his people because he is male.
"No matter what I want to do, no matter how well I lead or how hard I train, I won't be able to force life into frozen fields, or cure plagues, or feed strength into soldiers like if I could use the conduit. The Winterians would probably rather have a cruel queen than a king with good intentions, because with a queen, they at least have a chance that the magic can be used for them. It doesn't matter what I would do with magic, because leaders are valued for the wrong things."
That had been a struggle for Mather. Some of the group go on missions, following leads to restore the broken piece of their conduit. The problem is, the man, Angra who possesses it, keeps the precious half traveling around so it can't be restored, nor the Winter Kingdom.
Beneath the Season Kingdoms is a giant ball of magic. And somewhere in the Winter's Klaryn Mountains there was once an entrance to it. All the Season Kingdoms' lands are affected by the chasm. The Rhythm Kingdoms cycle through all four seasons.
As confusing as this may sound, and as in depth the concept is...the story evens out and was easily to slip into once I got adjusted to the world. Another element I liked was that the Winterians had whitish hair, pale skin and blue eyes. Alysson was a mother figure to Mather and Meira.
"You won't have to hide forever, sweetheart. Someday our features will blend in, not stand out."
While they search for the broken locket, Meira constantly struggles with proving her self to Sir, and is determined to do whatever it takes to be able to do so, and help procure the pieces. Over and over and over, Meira gets put on measly missions and she never understood why.
They escape imprisonment, many obstacles, battles, and eventually Meira's life entwines with another love interest, Theron.
I struggled with the romantic pulses between Meira and Mather, and then when Theron entered into the picture, I knew who I cheered for. Theron was the type of character that I wanted to see with Meira. He was kind, selfless, and his affections for her were real. Whether Meira ends up with Mather, or Theron...both exude male swoonworthyness and I could see her with either one.
This story is complex, long, and every bit fantasy. My only complaint would be I think sometimes when a story is this complex, it's a bit more difficult to enjoy. Not that I didn't like it. I did! And I realize fantasy novels usually run a little longer as the world building is a vital importance. Overall, I really liked this novel, and I will most certainly read the second book. I'm looking forward to reading others opinions on the book itself and the love triangle between Meira, Mather, and Theron.
Lastly, I'd like to share a final quote that I truly loved.
"And no matter what Angra might try to do, he will not stop me from washing away the ashes of this kingdom's past and filling our lives with the glorious icy peace of snow."
Quotes taken from an uncorrected proof