Woohoo we have another amazing interview to share with you today! Kendall Kulper is stopping by to answer a few questions and I have to say she is awesomesauce! Her books Salt & Storm and Drift & Dagger sound amazing and she gives us a few more details about them below!
1.What spurred you to begin Salt and Storm in the setting that you choose?
I love island communities and always wanted to write a book set on an island. The island I know best is Martha's Vineyard, so that was the jumping off point for Salt & Storm's setting. I didn't actually intend to make it a historical fantasy, but when I started thinking about Martha's Vineyard and New England, I was inspired by whaling and by stories of "water witches"—women who crafted good luck charms for sailors.
2. How did you come about creating the infamous Roe Witch line?
I knew I wanted to write about these water witches, and I was especially intrigued by the idea that it could be a role that was passed down from mother to daughter. Mother-daughter relationships are so complex anyway, but throw in magical powers, and it adds a whole new level of intensity. Avery, her mother, and her grandmother all have very different ideas about what it means to be a witch and they place very different values on having all that power. It was a lot of fun to explore all the tension—and love—between the Roe women.
3. Do you have a clear cut picture of how you want your books to end or do you characters run away with the story lines at times?
I tend to have very clear images of the last scenes, but when I sit down to write, the middles do surprise me. The best way I can describe it is it's like driving a car in the dark: you know your destination, and you can see what's just up ahead, but anything beyond that is a mystery.
For both Salt & Storm and Drift & Dagger the endings were some of the first things I imagined. Drift & Dagger's ending is actually the first thing I wrote for the whole book! But in both cases—and especially Drift & Dagger—the plot lines totally deviated from where I would have guessed, even though they both ended up right where I wanted them.
4. If you could be a witch, what would your favorite spell/power be?
I would want to instantly teleport anywhere in the world so that I could see my far-flung friends and family anytime I wanted.
5. Your degree from Harvard in history in literature is my dream come true! Did you always want to pursue those subjects?
I always loved writing and literature, and when I was in high school I had an amazing history teacher who made me see history in a whole new light. As a freshman in college, I thought I wanted to be a journalist focused on international politics, but as Harvard has no journalism major, I went to the next best thing, which is their History & Literature program. Hist & Lit was actually more than just a combo of the two disciplines. It defines "history" as "anything that ever happened" and "literature" as "anything that was ever created," so it's really studying how the things people created tell us about the time they lived in and how things that happened shaped the things people made. It was a great, great program and taught me a lot about how to think and write critically—and it's no surprise that I ended up writing historical fiction!
6.How does Abby (Kendall's chronically anxious Australian Shepard) feel about Drift and Dagger?
Let's ask her!
Can you describe Drift and Dagger in 5 words?
Magic-proof boy, fantasy world
Aw I love Abby!! That has to be one of the cutest pics ever! Kendall thanks so much for stopping by! I can't wait to dive into Drift & Dagger and explore more from this amazing world you have created!
About the Author
Find the Author:
Website
/
Twitter
/
Facebook
/
Goodreads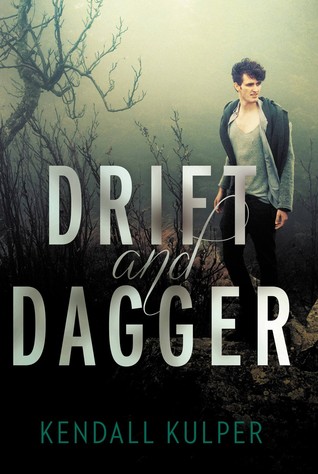 Drift & Dagger
by Kendall Kulper
Publisher: Little Brown Books for Young Readers
Release Date: September 8th, 2015
Purchase:
Amazon
I've always been a monster. And monsters destroy things. Things like magic and friendships and futures.

Mal used to have a home, a best friend, and a secret. But he lost all three on the day Essie Roe exposed him as a blank. Blanks cannot be cursed or saved or killed by magic. And everyone is afraid of them—even Mal himself.

Now Mal travels the world in search of dangerous and illegal magical relics, never stopping in any one place too long. When his partner in crime, Boone, hears of a legendary dagger that can steal magic, Mal knows he finally may have found a way to even the score with Essie. Crossing oceans and continents, Mal and Boone travel from Boston to Paris to Constantinople in search of the dagger. Finding it would mean riches, fame, and revenge—but only if Mal can control the monster inside him.

Kendall Kulper weaves a vivid story of betrayal and determination—and the road to forgiveness—in this new adventure set in the world of Salt & Storm.