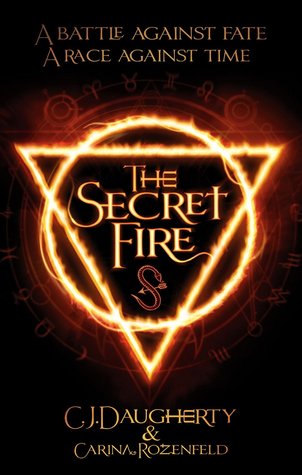 French teen Sacha Winters can't die. He can throw himself off a roof, be stabbed, even shot, and he will always survive. Until the day when history and ancient enmities dictate that he must die. Worse still, his death will trigger something awful. Something deadly. And that day is closing in.

Taylor Montclair is a normal English girl, hanging out with her friends and studying for exams, until she starts shorting out the lights with her brain. She's also the only person on earth who can save Sacha.

There's only one problem: the two of them have never met. They live hundreds of miles apart and powerful forces will stop at nothing to keep them apart.

They have eight weeks to find each other.

Will they survive long enough to save the world?
My Thoughts:
At first, I didn't even realize this book was co-written. I've never read anything by Rozenfeld before, but I gotta say, she and Daugherty make a good team. The writing was evenly paced, flowed at a steady stream of intrigue and extremely easy to sink into and get lost in the pages. As for Daugherty? She's one of my favorite authors and her
Night School
books is one of my favorite series. They were unpredictable, gripping and addicting as hell. While I do still miss that world, I was thrilled when I heard that Daugherty was coming out with a new series and I'm even more thrilled to say that it was everything I hoped it would be.
The Secret Fire
,
has just about everything I like in my reads. It has two unlikely allies, a 300 year old curse, genetic powers and has a ton of gripping suspense. I absolutely love the concept and found it completely fascinating. Sacha Winters is a 17 year old teenager who lives in
Paris
. He's reckless, fearless and doesn't value his life, but then again he can't die, at least not yet and not from the lack of trying. For as long as anyone could remember his family is cursed. Every first born son on his fathers side will die at the age of 18 and nothing can kill them before then, which I guess explains why Sacha has lost interest in school, friends and well, life.
Taylor Montclair is a 17 year old teenage girl who takes her education seriously. She's an Intelligent straight-A student who enjoys charities, volunteering and dreams of going to
Oxford
to study with her grandfather. So when her French teacher asks
Taylor
to tutor a boy who needs help in English, she agrees. When
Taylor
gets in touch with Sacha, things aren't exactly smooth, but eventually they get it straight and agree to meet on-line and 'study'. In the meantime,
Taylor
has been getting these strange headaches, losing time and strangest thing has been happening to her. Soon Sacha and Taylor realize that their meeting isn't by chance, and soon they will learn what fate really has in store for them and what they will mean to one another.
There is so many aspects of the story that I really enjoyed. Sacha would put himself through these terrible and dangerous situations, but like a train wreck, I couldn't look away. I loved learning more about the curse and seeing Taylor train her new found powers and was continuously curious how the two connect, which I have to say when the big reveal happened, it was a brilliant twist. I also loved that this wasn't one of those insta-love romances, cause actually there was no real romance at this point, but we do have a real connection between two people who are fated to save the world by saving each other. I loved their deep protective need and fierce determination to go up against exhaustible odds. This book is extremely suspenseful and riddled with endless questions and all it did was make me want more.
I really enjoyed all of these characters. They all have a unique voice and the greatest personality.
Taylor
is a wonderful character who has a good head on her shoulders. She took the news about her mutated genes well and it was fun watching her strength develop. I wasn't sure what to think of Sacha at first, he lives his life very dangerously and I found him to be obnoxious and rude, but as we got to know him better, I realized that he's just bitter, scared and mad as hell and my heart hurt for him. He's actually very kind and sweet. Louisa is also pretty kickass. She's got sass and great sarcasm and I love what she brings to the story.
Bottom line, I absolutely loved this one, it's exciting, it's fascinating and it's completely consuming. I can't wait to find out what happens next. Bring on the next book! Instant favorite!