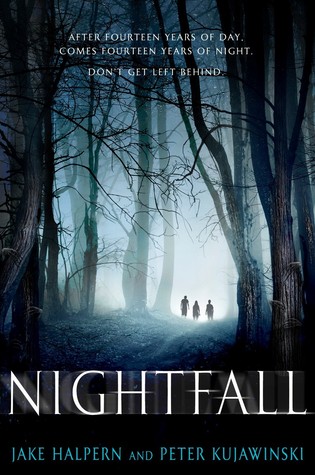 Nightfall
by Jake Halpern, Peter Kujawinski
Publisher: G.P. Putnam's Sons Books for Young Readers
Release Date: September 22nd, 2015
Purchase:
Amazon
On Marin's island, sunrise doesn't come every twenty-four hours—it comes every twenty-eight years. Now the sun is just a sliver of light on the horizon. The weather is turning cold and the shadows are growing long.

Because sunset triggers the tide to roll out hundreds of miles, the islanders are frantically preparing to sail south, where they will wait out the long Night.

Marin and her twin brother, Kana, help their anxious parents ready the house for departure. Locks must be taken off doors. Furniture must be arranged. Tables must be set. The rituals are puzzling—bizarre, even—but none of the adults in town will discuss why it has to be done this way.

Just as the ships are about to sail, a teenage boy goes missing—the twins' friend Line. Marin and Kana are the only ones who know the truth about where Line's gone, and the only way to rescue him is by doing it themselves. But Night is falling. Their island is changing.

And it may already be too late.
My thoughts:
Nightfall was one of my must have books because well just look at that cover and also the summary was super creepy. Which as you all know I am in the creepy mood nowadays so basically it was calling my name. When it showed up on my door with the most amazing packaging ever (see picture) I knew I was in for an amazing adventure and wow!
Jake Halpern

&

Peter Kujawinski

totally delivered on this one!!
I think the summary does a fantastic job at detailing what Nightfall is about. What you don't get though from the summary is just how intense this book gets. When the boats arrive to take the villagers away from Bliss there is an intensity in the air and when we are told their might not be enough boats my heart started pounding. I knew what had to happen for Line, Kana, and Marin to miss this boats, but man I couldn't stop hoping they would make it back to the boat!! When they finally do make it back to the boats luggage is everywhere and it looks like it was chaos boarding. This made me wonder and not for the first time why everyone had a sense of urgency to leave before nightfall. A few chapters in we find out.
Like I said I really enjoyed this story. It was creepy, exciting, and downright thrilling throughout. The only thing I wanted that I didn't get was a backstory. We kind of hear a few things, but I wanted so much more. A backstory would have helped me understand a little more about the island, but honestly even without it this story was still amazing and one of my favorites this year. Plus there is a twist that I promise will blow your mind!! I'm still trying to figure out how I missed the clues to it!!
I also enjoyed the characters. It was a breathe of fresh air not to have a love triangle, drama, or romance as a major focal point. Lately I have been looking for books that have different focal points and this one fits beautifully. Line, Kana, and Marin were interesting characters and they each stole my heart in different ways. Were they perfect, no, but are kids ever perfect? They were real and honest and I really enjoyed reading their story.
This is definitely one of my favorite reads. It's one that I think I will probably reread and I hardly ever do that, but I feel like I read it so fast that I probably missed a few key points and I want to know all the key points of this story. Just truly fun and amazing!