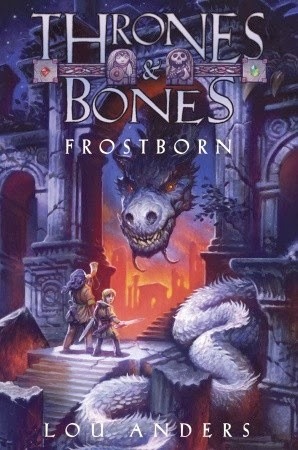 Frostborn
by Lou Anders
Publisher: Crown Books for Young Readers
Release Date: August 5th, 2014
Purchase:
Amazon
Meet Karn. He is destined to take over the family farm in Norrøngard. His only problem? He'd rather be playing the board game Thrones and Bones.

Enter Thianna. Half human, half frost giantess. She's too tall to blend in with other humans but too short to be taken seriously as a giant.

When family intrigues force Karn and Thianna to flee into the wilderness, they have to keep their sense of humor and their wits about them. But survival can be challenging when you're being chased by a 1,500-year-old dragon, Helltoppr the undead warrior and his undead minions, an evil uncle, wyverns, and an assortment of trolls and giants.
My thoughts
:
This was a very interesting read for me. On one hand I really enjoyed the innocence of it all because it's been a really long time since I have read a middle grade book, but on the other hand it kinda fell a little short for me.
I'll start with the part I liked, the giants. I loved this part of the story. It was fun and unique and I really fell into it with abandon. I thought
Thianna was an amazing character and her struggles really touched my heart. See she is a half giant living in a giant world. A lot of the giants don't respect her because of her human half.
Thianna feels like she has to prove herself everyday and all she wants is to just be a giant and nothing more. I felt bad for her and I just wanted her to accept her uniqueness but that's easier said than done and
Thianna goes on an adventure that opens her eyes to a lot of things.
The part I didn't like was Karns which is a bummer, but I felt like Karns and
Thiannas each held 50% of the story so it didn't ruin it for me. I should probably clarify because it's not that I didn't like Karn its just that it resembled The Lion King a little too much for me. I mean honestly if you break it down the story and the characters are basically the same. Even down to the dirt that Scar throws into Simba's face and the demise of Scar was the exact same as well. I don't like how similar they were. I don't think the author copied on purpose but my oh my they were the exact same! It was hard for me to look at Karns story without thinking of Simba and that just depressed me because The Lion King was so sad! I just really wish the author would have made Karns story as unique as
Thiannas.
The two stories collide eventually and we get to see each side take center stage at different times. I liked how the author wove both in together and kept them separate at the same time. Really if you look at it there were 3 stories all together.
Thiannas, Karns, and the one with them on the adventure together. They made a great team and I rooted for them from the start.
I have the second book to read and I am thinking I will probably really like it because it is about
Thianna and her moms side of the family. I think it will be really interesting to see where the author takes his characters and with The Lion King side of the story done I am pretty sure Karn will have a fun storyline as well. So I will definitely give this author another shot!