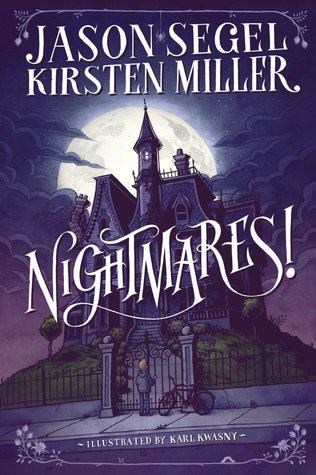 Nightmares! (Nightmares! #1)
by Jason Segel, Kirsten Miller
Publisher: Delacorte Books for Young Readers
Release Date: September 9th, 2014
Purchase:
Amazon
Sleeping has never been so scary. And now waking up is even worse!

Charlie Laird has several problems.

1. His dad married a woman he is sure moonlights as a witch.
2. He had to move into her purple mansion, which is NOT a place you want to find yourself after dark.
3.He can't remember the last time sleeping wasn't a nightmarish prospect. Like even a nap.

What Charlie doesn't know is that his problems are about to get a whole lot more real. Nightmares can ruin a good night's sleep, but when they start slipping out of your dreams and into the waking world—that's a line that should never be crossed.

And when your worst nightmares start to come true . . . well, that's something only Charlie can face. And he's going to need all the help he can get, or it might just be lights-out for Charlie Laird. For good.
My thoughts:
Nightmares! was such a fun and spooky adventure!! I'm really starting to get into the Halloween spirit and this was a great book to kick off my creepy tbr!
This book is a really fun take on well nightmares. I really enjoyed the whole spin that the authors chose! It was very unique and kind of a cross between Monsters Inc. and Little Monsters. We have Charlie who has started having nightmares since moving into the purple mansion. These nightmares feel real and he suspects his new stepmother aka stepmonster might be behind his night time terrors. What he doesn't know is that there is a whole world devoted to nightmares and he's about to get a crash coarse in what it means to be terrified.
I think the authors did a great job at keeping the spooky factor just at the right level. With middle grade I'm sure this isn't an easy task but I think Jason Segel and Kirsten Miller kept a great balance to where the kids reading this would be scared, but know after finishing Charlie's story how to beat those fears. I think that's what I liked the best. This book taught younger kids how to fight their fears. I don't think I've ever read a book that did this quite so well. I even loved the spin on what happens to a nightmare once they retire! Such a unique idea!!
The story wasn't all about the nightmares though. Charlie is dealing with the loss of his mother and it was really heartbreaking to see. We see throughout the book that this is something he is struggling with and it's a deeper part of the story that was written in very well. Since he is dealing with the loss his emotions are all over the place and is the catalyst for the events that occurred. I really loved how the authors chose to wrap things up with this particular part of the story. My only wish is that Charlie's dad would have been a tiny bit more there in the story. It felt at times like his stepmom was more invested in Charlie and I really missed that father/son connection.
Another thing I really liked about this book was the characters. Charlie's friends were always there for each other and they stood by one another through thick and thin. It was a great addition to the story and one that I think young people need to see. We all have bad days, but if you are a true friend you will call that grumpy friend out and find out what's really bothering them. In this case it was a witch, but you know each friend is different =)
I'm not huge on middle grade books, but Nightmares! was honestly a book I would have been sad if I had missed. I can't wait to dive into the sequel!