I'm soooooo excited and I mean like squee from the rooftops excited! Blood and Salt has been on my tbr forever and when I found out there was a tour planned for Kim I begged, pleaded, and promised to even give up my husband to be on the tour! Penguin Teen was amazing and not only picked me for the tour, but they offered to have Kim send a top ten list and told me I could keep my husband woot! So now after my total fangirling intro here is...
Top Ten List of Things I (Kim Liggett) can't live without.
Let's be real. I can exist without any of these things, but why merely exist when you can truly live?
I like to think of us like this:
​
But it's probably more like this:
​
I drink vats of this stuff every single day
​
3. Books, film, art, music
A life without creativity would be a miserable one
​
I've always been fascinated by perfume. This is my current fave, which happens to be Katia's scent.
​
It's a serious indulgence. I only get to go a few times a year, but knowing that the Met is just a subway stop away is magical.
​
I always own a good pair of Vans sneakers. This is my current pair.
​
I splurge on nice linens & pillows. I want my bed to be a sanctuary.
​
A good laugh is the best medicine.
​
I love the fact that I can order waffles, sushi, tikka masala, moussaka, roti, or enchiladas at any hour and have it delivered to my door within 30 min. It's dangerous, but awesome.
​
10. The ability to dream BIG
My life would be a sad monotonous existence without the ability to dream.
I love love love this list! I can definitely agree with more than one of Kim's picks =)
Kim thank you so much for writing this up!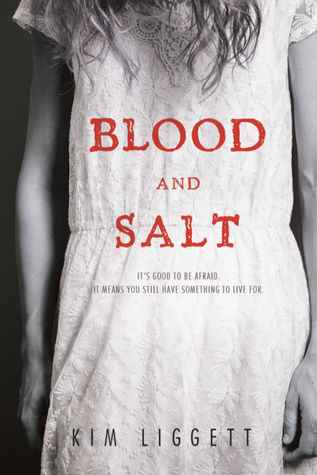 Blood and Salt by Kim Liggett
Publisher: G.P. Putnam's and Sons Books for Young Readers
Release Date: September 22nd, 2015
Purchase:
Amazon
Romeo and Juliet meets Children of the Corn in this one-of-a-kind romantic horror.

"When you fall in love, you will carve out your heart and throw it into the deepest ocean. You will be all in—blood and salt."

These are the last words Ash Larkin hears before her mother returns to the spiritual commune she escaped long ago. But when Ash follows her to Quivira, Kansas, something sinister and ancient waits among the rustling cornstalks of this village lost to time.

Ash is plagued by memories of her ancestor, Katia, which harken back to the town's history of unrequited love and murder, alchemy and immortality. Charming traditions soon give way to a string of gruesome deaths, and Ash feels drawn to Dane, a forbidden boy with secrets of his own.

As the community prepares for a ceremony five hundred years in the making, Ash must fight not only to save her mother, but herself—and discover the truth about Quivira before it's too late. Before she's all in—blood and salt.
Want to see the creeptastic trailer and read an excerpt?? Of course you do!! Just click
HERE
!
Don't forget to visit the rest of the amazing blogs on this tour!
Good Books & Wine – guest post #1 – 9/14
Addicted Readers – interview - 9/15
Jessabella Reads – 25 Random Things - 9/16
A Midsummer Night's Read – Book Playlist #1 - 9/17
It Starts At Midnight – review & giveaway - 9/18
The Book Bratz – review & giveaway - 9/21
No BS Book Reviews – interview - 9/22
Once Upon a Twilight – Would You Rather? - 9/23
Please Feed the Bookworm – review & giveaway - 9/24
The Irish Banana – guest post #2 - 9/25
Winterhaven Books – Top 10 - 9/28
My Friends are Fiction – review & giveaway - 9/29
Fiction Fare – interview - 9/30
A Dream Within a Dream – Book Playlist #2 - 10/1
Two Chicks on Books – interview - 10/2