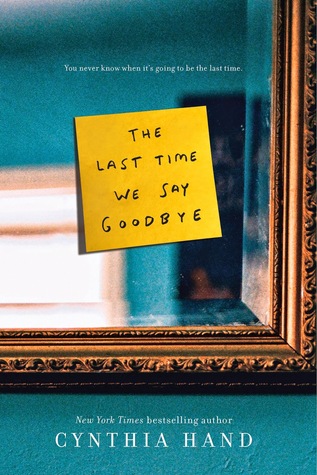 The Last Time We Say Goodbye
by Cynthia Hand
Release Date: February 10, 2015
Publisher: Harper Teen
Review Copy from Edelweiss
There's death all around us.
We just don't pay attention.
Until we do.

The last time Lex was happy, it was before. When she had a family that was whole. A boyfriend she loved. Friends who didn't look at her like she might break down at any moment.

Now she's just the girl whose brother killed himself. And it feels like that's all she'll ever be.

As Lex starts to put her life back together, she tries to block out what happened the night Tyler died. But there's a secret she hasn't told anyone-a text Tyler sent, that could have changed everything.

Lex's brother is gone. But Lex is about to discover that a ghost doesn't have to be real to keep you from moving on.

From New York Times bestselling author Cynthia Hand, The Last Time We Say Goodbye is a gorgeous and heart-wrenching story of love, loss, and letting go.
My Thoughts:
The Last Time We Say Goodbye
belongs to a category of books that I am always very careful about – books that focus on the aftermath of suicide. As someone who has, and still is, going through the process of understanding why someone I love would want to kill himself, the process of questioning whether there is something I could have done differently to prevent it, I have become wary of these types of books. I have started to expect a sense of realism, sense of the fact that the author knows what she or he is writing about. I have started to see which authors are writing from their own experience and which authors are using the premise without having experienced it themselves. Though I would NEVER want this sort of thing to happen to anyone, I am glad that there are people out there willing to share their experiences in one form or another. Cynthia Hand does just that, brilliantly so, in
The Last Time We Say Goodbye
, through telling the story of Lex who's little brother has killed himself.
Since Tyler shot himself in their garage, Lex has been known as the girl whose brother killed himself. People are walking on eggshells around her, not sure what to say to her or how to act around her. She's going to therapy out of her mother's request though she herself does not see any point for going. What could this man who did not even know Tyler say that could help? The fact that her mother's a mess does not help – she's popping pills and drinking wine every night, trying to drown her sorrows that way. And then she says that she is able to sense Tyler's presence in house. Lex knows that it is not possible – Tyler is dead, gone, under the ground, never to be seen again. So how can she explain that she is seeing Ty too, sensing him in places that he should not be anymore? He's dead, afterall.
The first time this whole Tyler's presence/ghost thing was brought up in the book, I almost gave up. I don't know, I was just so looking forward to reading a contemporary novel, something that was really tied down to reality. I was afraid that this ghost thing would turn into something paranormal and something that would turn the things upside down. My biggest fear was that it would be something that would turn this story around, something that would allow Lex to prevent what happened to Tyler. For someone who has gone through the motions of the suicide aftermath, reading something in which a character can prevent it from happening is like pouring acid to your skin – you wasn't able to prevent it, what did you do wrong? I am relieved to say that very quickly, this ghost thing was explained to the reader and it became something that just pushed the narrative forward. It became something realistic and something that I now see as an essential part of the story.
I don't think I have identified with a character quite so much for a long time. Though I am not a science geek like Lex, I share her outlook to life. She's logical, quite pessimistic and rather believes in facts than in feelings. The fact that she has lost someone she loves has made her realize that love does not conquer all, that sometimes it hurts more than it should. The fact that her friends do not seem to know how to talk to her anymore and the fact that she does not feel like she has the right to be happy has made her a bit of a loner – she rather is alone that tries to explain to someone how she feels, because how do you explain the black hole in your chest for someone who has not experienced the same. The situations finds herself from, the encounters she has with her people and people at school, brought up so many memories of a similar situation I was in.
There is no way for me to express through words how much I appreciated Cynthia Hand's honesty with this book. For someone who has been lucky enough not to have gone through something as difficult as Lex is going through, the prose will reveal the raw emotions and the sadness that just feels like it is going to swallow you whole. For someone who has been unfortunate enough to experience like this, the fact that someone is willing to write honestly about it feels like you are not alone with what you went through. There are couple of instances in which I have read books in which suicide has been present and after a couple of weeks, the characters just seem to have forgotten it. In those instances, I have started to feel like a failure – how can these characters forget it all and go on when after 10 years I am still thinking about every single day.
The Last Time We Say Goodbye
did not make me feel like that, but rather allowed me to relate to this story, to feel for Lex and to also go through my own experiences, which can be a really cathartic experience.
Through it definitely isn't the focus of this story, there's a little romance here present. I was afraid it would unsurp the story of Lex's sorrow and dealing with it, but was happy to notice that though it is there, it isn't the point of this story. This really isn't a love story in the romantic sense. It is more of story about a sister's love and sorrow and about the little hopefulness that is present, even in the times of sadness that seems too heavy. The last 10% made me cry big, fat tears, but in the end, I felt good – sometimes it is just feels good to have a proper cry and to clear your head that way. If you are looking for a generic happy and uplifting story, The Last Time We Say Goodbye might not be for you. But if you want something that will make you think, something that will make you appreciate what you have and who you have in your life, please do yourself a favor and pick this one up. It will break your heart, it will make you cry, but it will also change you. At least it changed me.
5 Snowflakes