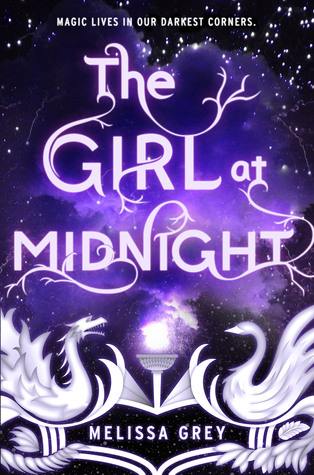 The Girl at Midnight
by Melissa Grey
Release Date: April 28, 2015
Publisher: Delacorte Press
Review copy from NetGalley
For readers of Cassandra Clare's City of Bones and Leigh Bardugo's Shadow and Bone, The Girl at Midnight is the story of a modern girl caught in an ancient war.

Beneath the streets of New York City live the Avicen, an ancient race of people with feathers for hair and magic running through their veins. Age-old enchantments keep them hidden from humans. All but one. Echo is a runaway pickpocket who survives by selling stolen treasures on the black market, and the Avicen are the only family she's ever known.

Echo is clever and daring, and at times she can be brash, but above all else she's fiercely loyal. So when a centuries-old war crests on the borders of her home, she decides it's time to act.

Legend has it that there is a way to end the conflict once and for all: find the Firebird, a mythical entity believed to possess power the likes of which the world has never seen. It will be no easy task, but if life as a thief has taught Echo anything, it's how to hunt down what she wants . . . and how to take it.

But some jobs aren't as straightforward as they seem. And this one might just set the world on fire.
Milka's Thoughts:
Though contemporary YA is my jam, I occasionally like to verge into other "dimensions" of the YA book world. Actually, back in the day of Twilight and The Hunger Games, paranormal/dystopian romance used to be right up my alley. But as the books started to remind each other more and more, I switched to contemporary and I've been on that road ever since. When The Girl at Midnight was approved for us on Netgalley and I read through the synopsis, I knew that I would have to give this a go. The comparisons early reviewers made to Cassandra Clare's Mortal Instruments series definitely intrigued me, and the fact that bloggers and goodreads users I really trust were raving about this book gave it the number 1 spot on my TBR.
The Girl at Midnight, the first book in Melissa Grey's new YA series introduces us to Echo, a human girl, who has spent most of her life living with the Avicen, an ancient race of people with magical abilities. Living under the streets of New York City, the Avicen have been able to keep their magic hidden from humans and in some way, Echo often works as their portal between the two worlds. She's a pickpocket who travels around the world stealing precious artifacts which she then sells at a blackmarket within the Avicen community. When an artifact stolen to be given as a birthday present to the Ala, the Avicen who has raised Echo, turns out to be something more than it seems, events start to unfold and Echo learns more about the centuries old-war between the Avicen and Drakhain, a race of magical creatures that hail from the dragons.
All the way from the beginning of this novel, I really liked Echo. She's snarky, sarcastic, always says what she thinks and most importantly, she's loyal. Though she's different from the Avicen, she respects them and sees them as her family – as a group of individuals who accepted her and took her in at a time of her life when she really needed someone to be there for her. When she learns about the mysterious Firebird, a legend that is rumoured to be able to end the war between the Avicen and the Drakhain, she is ready to do whatever is asked of her to help the Avicen, especially the Ala, one of the Avicen elders she thinks of as her mother. As she gets deeper into her mission, she is forced to face her prejudices and her fears while she is made to put her trust on people she has been warned about her whole life. She learns that first impressions might not always be correct and while looking for the Firebird, the gets deeper and deeper into the world and history of the Avicen.
Caius is the Drakhair prince, a man of considerable age in a body of a young man. Within the community of Drakhain, the royal role is not inherited, but rather voted upon. When Caius's twin sister Tanith starts to show signs that indicate that she's planning to overthrow Caius, he knows that he needs to act. But once the Firebird business reaches his ears, he is suddenly thrown into a situation and a world that he never expected to find himself from. Not only does he need to get his kingdom back, he also needs to work with a human and a group of Avicen to do it.
Melissa Grey excels in bringing her world filled with magic and feathered creatures alive. She slowly builds the world of both the Avicen and the Drakhain and by placing a human girl in the middle of it all, she makes it easy for the reader to navigate this new world through the eyes of Echo. I loved the detail she has put into describing the transport system the characters use to move from point A to point B – I was fascinated by it and hope that the description and use of it will be extended to the second book of the series. Grey writes well and intelligently, and I loved the little bits of humor that she had inserted into the story.
Yes, there is a love triangle in this novel. But it doesn't play as big of a role as I expected it to, of which I am extremely happy about. For me, it was kind of clear right away with whom Echo is supposed to be with, but I'll let you all make your own conclusions. There's also a budding gay relationship here, which I really liked, but which also REALLY made me think about The Mortal Instruments, as a result of which I started to find similarities between the two. The Girl at Midnight definitely shares a lot with The Mortal Instruments, especially when it comes to the relationship dynamics within the book. I must admit that this similarity probably dropped one star from my rating, just because while I was reading the book, I kind of felt like I had read it already somewhere else. But since I love The Mortal Instruments, I also kind of enjoyed reading a book quite similar to it and I definitely do see the potential this book has on extending to a long series of successful YA novels – the possibilities of extending the world of the Avicen and the Drakhain feels endless and I am really interested to see how Grey continues this novel.
The Girl at Midnight is entertaining, fast-paced, imaginative and funny. While I wasn't obsessed with it, I did find myself enjoying it and I was continually intrigued to see what happens next. The character relationships are well established and the way Grey ends the book made me both satisfied and yearn for more. Finally, I learned by new favorite word from this book –
callipygian,
which means "having well shaped buttocks". I have already used it multiple times while describing my favorite hockey players.
Three Snowflakes
Britt's Thoughts:
I have been excited for The Girl At Midnight for months! It is so surreal to finally get to read and fall ion love with a book that you had set high up on a pedestal. The blurb the promised an ancient war and hidden races so very alluring. Melissa Grey absolutely delivered on with her fantastic debut.

I would like to put to rest a few comparisons I have been hearing in regards to this story. I don't feel it a fair assessment to compare this to The Mortal Instruments. I for one really enjoyed that series but have no desire to read anything like it anytime soon (unless of course it is The Dark Artifices). There is a world hidden within the human one where forces battle for control. My blogmate Milka did also make a fabulous point in regards to the similar relationship patterns (well...one really) but I truly believe that is where I would draw the line with the comparisons. That is the problem when comparing one book to another, you automatically turn off the people who didn't enjoy the book it's being compared to. I know the blurb promises this will please fans of Cassie Clare and that is where is should really end for the plot couldn't be further apart.

This is the story of Echo, an orphan who was taken off the streets at a very young ago (7 yrs old) by a very prominent figure in the Avicen society, the Ala. The Avicen are magical beings (descended from birds) who reside in nest and have all sorts of colored feathers for hair. Like most species they have a mortal enemy, the Drakharin, who are descended from dragons. I felt like these two mystical cultures were done really well. They had distinctly unique feel to them. I thought the history was very cleverly thought out to provide the stepping stones needed for our characters to come to be. It was a nice touch that Caius and Echo ended up working together to find the mythical firebird that would end the centuries long way. I rather enjoyed that much more than them going head to had for it. I didn't see the big reveal coming and thought that added some much needed clarity to a few questions I had.

The characters were my favorite part as they each had a certain niche they fulfilled for me. Echo who wore her snark like armor but only to keep from getting hurt. Caius, the dragon prince, who even though was loyal to his people still wanted peace for all. The noble captain of the guard Dorian who would lay down his life for Caius and come very close to doing so. Peppering of some other much more colorful characters helped season this story to a delectable blend. I really enjoyed the 3rd person omniscient really gave me the broad spectrum I needed to grasp the full story. At first it was a tiny bit disorienting especially when Caius and Echo were together but I quickly adjusted.

This story ended up being rather lighter than I had expected but enjoyable none the less. Calling all fantasy lovers!!!
4 Snowflakes