Today on WinterHaven Books I am participating in the blog tour for Little Peach by Peggy Kern. This book really broke my heart and I am very proud to be a part of something so real. This blog tour is definitely about this incredible book, but also about the real life story enclosed within its pages.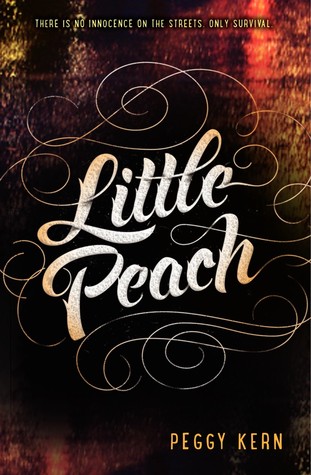 Little Peach
by Peggy Kern
Publisher: Balzar & Bray / HarperTeen
Release Date: March 10, 2015
What do you do if you're in trouble?

When Michelle runs away from her drug-addicted mother, she has just enough money to make it to New York City, where she hopes to move in with a friend. But once she arrives at the bustling Port Authority, she is confronted with the terrifying truth: she is alone and out of options.

Then she meets Devon, a good-looking, well-dressed guy who emerges from the crowd armed with a kind smile, a place for her to stay, and eyes that seem to understand exactly how she feels.

But Devon is not what he seems to be, and soon Michelle finds herself engulfed in the world of child prostitution where he becomes her "Daddy" and she his "Little Peach." It is a world of impossible choices, where the line between love and abuse, captor and savior, is blurred beyond recognition.

This hauntingly vivid story illustrates the human spirit's indomitable search for home, and one girl's struggle to survive.
My Thoughts:
After reading this I sat in complete silence for about 2 hours. I got up from my favorite reading spot and just sat outside and listened to the quiet. This book was tough and I don't mean like normal tough. I mean like slap you in the face tough. Peggy Kern I bow before you and want to thank you for showing me what is really going on.
I thought this was going to be emotional, but I had no idea how much I would feel for Michelle. What she goes through is heartbreaking and knowing that this kind of stuff goes on everyday is just horrible. I am honestly so broken over reading this. The story is quite simple, young girl who has nobody ends up running right into the wrong kind of help. That doesn't even do the story justice, but essentially that's what its about. Michelle gets sold every night for sex and without anybody reaching out to help her she stays in this horrible life. A lot of things happen to her and you just can't help but cry for her. Nobody should have to go through what she went through especially a fourteen year old girl.
I think what makes this stand out so much is the last page by the author. Ms.Kern gives us a glimpse into how she researched for this book and after reading just that simple blurb I had chills. Little Peach is a true story for a lot of women and my god what has the world come to. I'm not naive I know these things happen, but I guess I just blocked it. You go day to day and never really think beyond your bubble until someone says hey read this and then BAM you are thrown into the pit. I don't know what I want to do at the moment I just want to fight for these girls somehow.
Please read this. Peggy Kern has written an amazing book that I promise will open your eyes and maybe if enough eyes are open things might start changing.
4 snowflakes
Peggy Kern was born and raised in Westbury, New York. There she attended the local public elementary and middle schools, where she was one of the few white students in a predominately black and Latino community. Peggy didn't realize what a unique and valuable experience that was until she transferred to a private high school.
"I was miserable in high school," she says. "I couldn't understand why my classmates only hung out with people who looked just like they did. To me, that was a foreign concept." Peggy worked a variety of jobs through her teenage years, including switchboard operator at a country club, cashier at a clothing store, and the night-shift in a bakery.
In 1992, Peggy enrolled at LaSalle University in Philadelphia, where she discovered her love of literature and writing. However, the financial stress of paying for college herself – coupled with the painful divorce of her parents – proved overwhelming. She moved back to New York and took a full-time job as a secretary. Determined to finish her degree, she began taking night classes at a local community college and eventually landed a partial scholarship at Long Island University. She continued working full-time and taking classes until she graduated in 1998 with a B.A. in English.
Though it took her almost seven years to obtain her college degree, Peggy says she would do it all again. "The adversity made me work even harder. I never forgot how lucky I was to have a chance at an education."
In 2001, Peggy completed a Master's degree in English and Writing at Southampton College. She also coordinated the Southampton Writers Conference, where she had the chance to meet some of her literary heroes and assist young students in pursing their dream of writing. While at Southampton, she taught English Composition, tutored undergraduate students and published several short stories.
For more information about human trafficking and how you can help stop this from happening to someone you may know please follow the links below:
http://www.raphahouse.org/
http://www.covenanthouse.org/
http://www.gems-girls.org/
http://www.polarisproject.org/
Giveaway!! Thanks to the wonderful people at Harper we are giving away a copy of Little Peach to one lucky reader. US only.
Good Luck!
a Rafflecopter giveaway