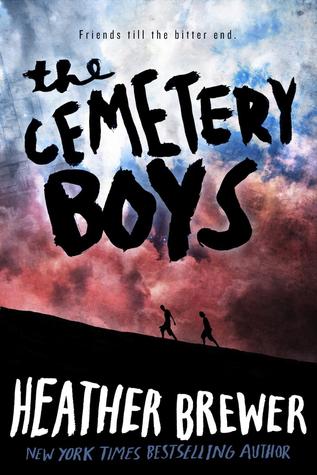 The Cemetery Boys
by Heather Brewer
Publisher: Harper Collins
Release date: March 30, 2015
Purchase:
Amazon
When Stephen is forced to move back to the nowhere town where his father grew up, he's already sure he's not going to like it. Spencer, Michigan, is like a town straight out of a Hitchcock movie, with old-fashioned people who see things only in black-and-white. But things start looking up when Stephen meets the mysterious twins Cara and Devon. They're total punks–hardly the kind of people Stephen's dad wants him hanging out with–but they're a breath of fresh air in this backward town. The only problem is, Cara and Devon don't always get along, and as Stephen forms a friendship with the charismatic Devon and something more with the troubled Cara, he starts to feel like he's getting caught in the middle of a conflict he doesn't fully understand. And as Devon's group of friends, who hang out in a cemetery they call The Playground, get up to increasingly reckless activities to pass the summer days, Stephen worries he may be in over his head.

Stephen's fears prove well-founded when he learns of Spencer's dark past. It seems the poor factory town has a history of "bad times," and many of the town's oldest residents attribute the bad times to creatures right out of an urban legend. The legend goes that the only way the town will prosper again is if someone makes a sacrifice to these nightmarish creatures. And while Stephen isn't one to believe in old stories, it seems Devon and his gang might put a lot of faith in them. Maybe even enough to kill for them.

Now, Stephen has to decide what he believes, where his allegiances lie, and who will really be his friend in the end.
My Thoughts:
Well I am pretty upset to tell you the truth. I've read books before that fell apart at the last minute, but this one tops them all. I cannot believe what I just read!
I actually really liked this story which is why I am so mad. There were a few plot holes that I found a bit annoying, but for the most part I was really into Stephen and his story. He's the new kid in town after leaving Denver with his dad to live with his bitter grandmother. His life isn't easy and when Devon the town bad kid gives Stephen a chance to join his group Stephen jumps at the opportunity. Stephens life turns into nights of drinking, trying to kiss Devons sister Cara, and trying to avoid his home life. That is until the Winged Ones are brought up and a town myth starts becoming a reality.
At this point I was starting to get a bit upset because Stephen turned into a follower. He broke several promises and really did a 180 on his character. I wasn't happy with him, but I still had hope that he would see the light eventually. Well that does happen, but instead of asking for help from the one person who would help him he runs head first into a dangerous situation and that's when I really got mad. I can't go into what happened because it would really spoil the book so I'll just say this ending was one of the worst I have ever read. What happened didn't help the story and I thought really came out of nowhere. I am so upset by this for many reasons and one of those is because I actually loved the twist that was thrown in. It was brilliant and looking back I could see where this twist developed throughout the story. So to have things end the way they did was just wrong and has made me rethink reading this authors other novels.
One other thing that bothered me was Stephen's mother. I think that whole storyline could have been explored more. It felt like the author was trying to connect his mom with the town, but then just decided to leave things alone. To me it felt like leaving an itch unscratched. Why connect the two if you aren't going to go down that road??
Do I think this book is worth reading yes and no. The town myth of the Winged Ones was pretty cool and this book did have a creepy Lost Boys feel to it, but on the other hand that ending was horrible and I don't think people would be satisfied with it. So I guess I would say yes, but with a warning. Tread carefully with this one and just enjoy the story before the last 5 pages or so.
I am giving this 3 stars because I did enjoy the story and it was interesting to see a guys POV. I usually don't read these very often and yes Stephen was a walking hormone but it was nice to have no angst and drama. So I think the story itself and Stephen deserve 3, but I have to take 2 big stars away for that ending. It was unnecessary and ruined the book for me.
3 snowflakes