Welcome to Teaser Tuesdays! Teaser Tuesdays is a weekly bookish meme, hosted by MizB of A Daily Rhythm.
Anyone can play along! Just do the following: Grab your current read Open to a random page Share two (2) "teaser" sentences from somewhere on that page BE CAREFUL NOT TO INCLUDE SPOILERS! (make sure that what you share doesn't give too much away! You don't want to ruin the book for others!) Share the title & author, too, so that other TT participants can add the book to their TBR Lists if they like your teasers! My Teaser Tuesday is for the following...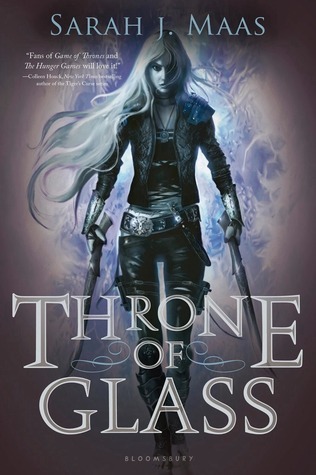 Throne of Glass by Sarah J. Maas
Publisher: Bloomsbury USA Childrens
Publication Date: May 7, 2013
In a land without magic, where the king rules with an iron hand, an assassin is summoned to the castle. She comes not to kill the king, but to win her freedom. If she defeats twenty-three killers, thieves, and warriors in a competition, she is released from prison to serve as the king's champion. Her name is Celaena Sardothien.
The Crown Prince will provoke her. The Captain of the Guard will protect her. But something evil dwells in the castle of glass--and it's there to kill. When her competitors start dying one by one, Celaena's fight for freedom becomes a fight for survival, and a desperate quest to root out the evil before it destroys her world.
Teaser from page 226
"Fingernail marks. He was desperate to get away--to drag himself by his fingertips, if necessary.He was alive the entire time that thing sharpened its claws on the stone while its master watched."
Teaser from page 227
He slid into the seat beside her, his leg brushed hers. "Is there a connection between all of these?"
"No." It wasn't quite a lie--though she had hoped for all of them to contain something about Wyrdmarks, or what they meant beside a corpse.
*PLEASE LEAVE A COMMENT with either the link to your own Teaser Tuesdays post, or share your 'teasers' in a comment here if you don't have a blog Thanks!