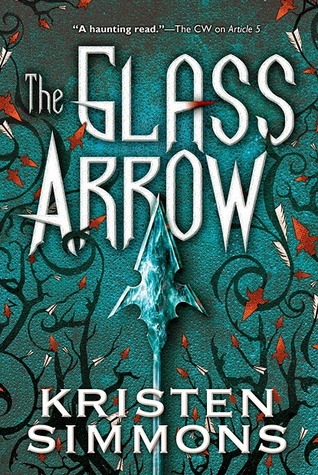 The Glass Arrow by Kristen Simmons
Publisher: Tor Teen
Publication Date: February 10, 2015
The Handmaid's Tale meets Blood Red Road in Glass Arrow, the story of Aya, who lives with a small group of women on the run from the men who hunt them, men who want to auction off breeding rights to the highest bidder.



In a world where females are scarce and are hunted, then bought and sold at market for their breeding rights, 15-year old Aya has learned how to hide. With a ragtag bunch of other women and girls, she has successfully avoided capture and eked out a nomadic but free existence in the mountains. But when Aya's luck runs out and she's caught by a group of businessmen on a hunting expedition, fighting to survive takes on a whole new meaning.
Amber's Thoughts
:
Though I have not myself read The Handmaid's Tale or Blood Red Road (I know, I know...give a girl a break) I was instantly intrigued by the synopsis.
Aya gets captured and taken from her home in the woods and placed in a facility in Glasscaster, where the Unpromised girls are groomed and sold for auction. Still bitter with the situation, Aya will do everything possible to delay getting put on the auction block and sold to any Magnate who can pay the price. Whether it's failed escape attempts, hurting herself, cutting her hair, taunting another girl so she'll throw the first punch to cause bruising, Aya is determined to escape back to the woods and find her family.
While Aya is in solitary, she finds comfort of a dog and then a Driver. Drivers are horsemen who breed and tame their animals in the wild, then bring them into town for sale and rental. Over time things escalate and Aya finds herself in a bigger predicament than ever. With the help of a friend, Aya escapes. Though this escape was what she wanted more than anything, secrets unfold and change her life forever.
Honestly, I enjoyed this book and the development of characters and their chemistry. I quickly grew fond of the Driver boy and Brax the dog. The author did a great job throwing in elements to touch every emotion: Sadness, frustration, swoonworthy moments, action, etc. This was a slight slow starter for me. Connecting to the world (which, she did a great job on world building) was detailed and easily to understand. There were times where the protagonist irritated me. The secondary characters were well scripted. The Governess was retched! I couldn't imagine being placed in such an unusual world or the hardships the people of lesser classes experienced, their way of life.
I think the story really picked up for me when Brax and the Driver were introduced. If you like fiery protagonist, this one is for you.
4 snowflakes