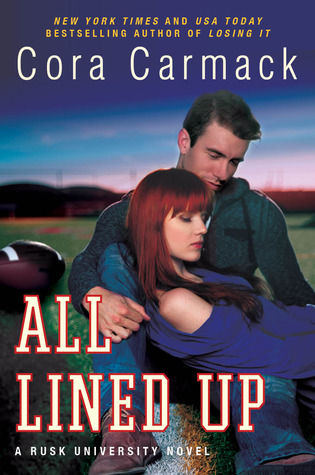 All Lined Up
by Cora Carmack
Release date: May 13, 2014
Publisher: William Morrow Paperbacks
New York Times and USA Today bestselling author Cora Carmack follows up her trio of hits—Losing It, Faking It, and Finding It—with this thrilling first novel in an explosive series bursting with the Texas flavor, edge, and steamy romance of Friday Night Lights.

In Texas, two things are cherished above all else—football and gossip. My life has always been ruled by both.

Dallas Cole loathes football. That's what happens when you spend your whole childhood coming in second to a sport. College is her time to step out of the bleachers, and put the playing field (and the players) in her past.

But life doesn't always go as planned. As if going to the same college as her football star ex wasn't bad enough, her father, a Texas high school coaching phenom, has decided to make the jump to college ball… as the new head coach at Rusk University. Dallas finds herself in the shadows of her father and football all over again.

Carson McClain is determined to go from second-string quarterback to the starting line-up. He needs the scholarship and the future that football provides. But when a beautiful redhead literally falls into his life, his focus is more than tested. It's obliterated.

Dallas doesn't know Carson is on the team. Carson doesn't know that Dallas is his new coach's daughter.

And neither of them know how to walk away from the attraction they feel.
My Thoughts:
The moment I read the synopsis of this book making a reference to
Friday Night Lights
, I knew I would have to get my hands on it.
FNL
is one of my favorite shows and since watching it, I have been extremely interested about every possible chance given to think about that show and how much I love it, and fortunately this book brought back so many wonderful FNL memories.
NA has been one of those genres for me from which I have either completely loved the books I've read or the total opposite. I don't mind the sexual content but often I find it being used in new adult novels just for effect, meaning that the narrative of the book would not really change if they were cut away. Think of TV shows that use a lot of nudity for no effect (pretty much everything on cable) and connect that to new adult books... Yeah, I bet you can find some similarities. Also, unfortunately, it too often feels like that in order for the love interest to be swoon worthy, he also needs to be ridiculously mysterious and in worst cases, abusive. After reading All Lined Up, I am happy to say that Carmack does not take either of these routes – her steamy scenes really do have a narrative purpose and in order for the reader to fall in love with the love interest, she does not need to employ the "mysterious bad boy" tropes.
For her whole life, Dallas has traveled around Texas with her father, following him and his passion for football and she has often felt like she's second best to her father's passion for the sport – someone he just needs to bring with him, a baggage on the road he has dreamed about. When Dallas's father is appointed to be the head coach for the Rusk University football team, Dallas, rather than following her own dream to a prestigious dance school, has to follow her father, once again, and enroll for the dance program at Rusk. Right away, Dallas senses what a joke the program is – it does not challenge her and it really does not help her own the road to becoming a professional dancer. And her wish of escaping football after high school fails too, when it very quickly becomes clear to her that as the coach's daughter, all eyes are on her.
Carson, a transfer to the Rusk team, is determined to train harder than anyone else to make sure that he won't be QB2 forever. His decision to avoid all distractions and to focus on training enters a slippery slope when he meets Dallas. As they come to the realization about their connection – Dallas's being the coach's daughter and Carson being a member of the team – they realize that it might be better for them both if they do not keep on going with their budding relationship. But how can Dallas stay away from someone who makes her feel like herself? How could it possibly be bad for her to spend time with a guy who understands her and her passion for dancing, for her need to express herself through her body? And why should Carson avoid a girl that is quickly becoming his only and closest friend?
I really love Dallas as a character. She is passionate and strong, but also very confused and torn apart. Her relationship with her father is problematic, and though she tries to understand his reasoning, sometimes it is just hard for her to see what his father is trying to do and from what he thinks he's protecting her from. Having been forced to put her dreams on hold, she is aimlessly wandering around, trying to find a purpose for her existence at Rusk. What makes it so incredibly easy to like Dallas is the fact that she is so real – she's flawed, she makes mistakes, she says the wrong things, but she also learns from her mistakes and tries to avoid making them again.
Carson is nice, charming and honest. What I really appreciated about his characterization is the fact that he really is one of the good guys – he shows that he is willing to prove that he's worthy of Dallas's love and her trust. The encounters between him and Dallas are so real and filled with chemistry – the romance never feels cliché and makes you swoon just in the right kind of ways. Carmack is brilliant at writing funny, slightly awkward encounters and her characters are incredibly easy to fall in love with. Writing romantic scenes seems to come naturally to her and I am glad to say that the scenes involving sexy times never feel awkward or unrealistic. Finally, as a huge fan of team sports (ice hockey is my fix), I was able to instantly connect with the way Carmack describes the atmosphere of the games. Reading those scenes really made me miss hockey and count the days towards the next time I get to see a match live.
5 Snowflakes