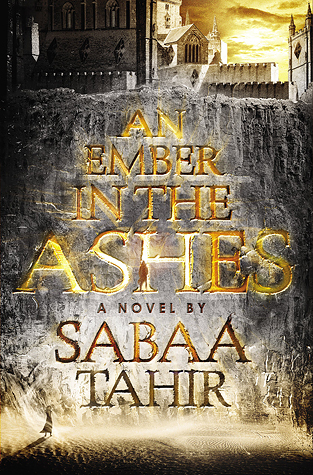 An Ember In The Ashes

by Sabaa Tahir
Publisher: Razorbill
Expected Publication Date: April 28, 2015
Set in a terrifyingly brutal Rome-like world,

An Ember in the Ashes

is an epic fantasy debut about an orphan fighting for her family and a soldier fighting for his freedom. It's a story that's literally burning to be told.




LAIA is a Scholar living under the iron-fisted rule of the Martial Empire. When her brother is arrested for treason, Laia goes undercover as a slave at the empire's greatest military academy in exchange for assistance from rebel Scholars who claim that they will help to save her brother from execution.





ELIAS is the academy's finest soldier—and secretly, its most unwilling. Elias is considering deserting the military, but before he can, he's ordered to participate in a ruthless contest to choose the next Martial emperor.





When Laia and Elias's paths cross at the academy, they find that their destinies are more intertwined than either could have imagined and that their choices will change the future of the empire itself.
My Thoughts:
Wow! Where to begin with this spine-tingling story....Told from first-person narratives alternating between Laia and Elia, whom come from very separate lifestyles, come together for one cause.
Elias is a Mask in the country of Serra at Blackcliff Military Academy. He is known as one of the most gifted. His mother is the Commandant, who is as awful as they come and mean as they get.
Laia's brother, Darin, is taken prisoner because of a sketchbook filled with drawings of swords etc, which are made for the Martials. Laia was given the chance to run and escape, which she did down into the tunnels beneath Serra, then runs into member of the Resistance. She begs the to help her free her brother, and eventually they would agree only if she agreed to be a spy for them. The plan was to sell her as a slave to the Commandant.
Laia learns her parents are much more than that, they were involved with the Resistance to a degree Laia had never imagined. She would do whatever she had to do to get her only living sibling and family member back, so she fed what information she could to the Resistance and the boy Keenan whom was the first Resistence member she met in catacombs.
Elias knew he wasn't like his fellow Masks, he wanted something different and in order to escape the life he didn't want any part of, he had to find a way out.
Born enemies, Laia and Elias cross paths and develop a chemistry which in turn they both find an escape within one another.
Helene was a close friend of Elias, but was fiercely loyal to the empire. Both Elias and Laia were caught up with their own plan, but in able to move them closer to their final goal. There are four trials that determine the next Emperor, and the Commandant has a hand in whom will will the trial....and it isn't her son. (I tell you she is PURE EVIL!!)
This corrupted country filled with nail biting tension will leave you wanting to know more. More about the Auger who can read oracles and minds and creepy creatures like Jinns and ghuls. This story is full of complexities and enough romantic tension between Elias, Keenan, and Laia. By the end you will be jonesing for the next chapter in these characters lives.
Without a doubt, Tahir has penned one stellar story that will be sure to sit in the forfront of your mind for some time. Loved the story. Loved the cast. And loved the world in which she created. I need number 2 now!!!!