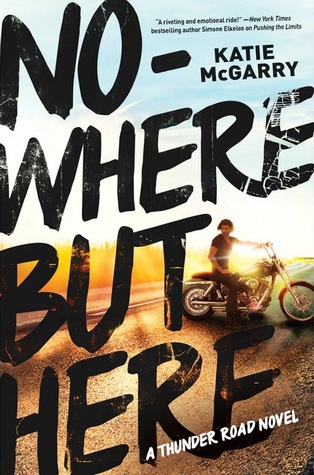 Publisher- Harlequin Teen
Seventeen-year-old Emily likes her life the way it is: doting parents, good friends, good school in a safe neighborhood. Sure, she's curious about her biological father—the one who chose life in a motorcycle club, the Reign of Terror, over being a parent—but that doesn't mean she wants to be a part of his world. But when a reluctant visit turns to an extended summer vacation among relatives she never knew she had, one thing becomes clear: nothing is what it seems. Not the club, not her secret-keeping father and not Oz, a guy with suck-me-in blue eyes who can help her understand them both.

Oz wants one thing: to join the Reign of Terror. They're the good guys. They protect people. They're…family. And while Emily—the gorgeous and sheltered daughter of the club's most respected member—is in town, he's gonna prove it to her. So when her father asks him to keep her safe from a rival club with a score to settle, Oz knows it's his shot at his dream. What he doesn't count on is that Emily just might turn that dream upside down.


No one wants them to be together. But sometimes the right person is the one you least expect, and the road you fear the most is the one that leads you home.
My Thoughts:
I've been a huge fan of Katie McGarry's,
Pushing the Limits
books so I couldn't wait to see what her newest release would bring. As I expected, she didn't disappoint!
Nowhere But Here
,
was an edgy contemporary that combines badass bikers, family ties and first love. It's has everything I want in an escape. Intensity, gripping suspense, funny moments and sexy times. I couldn't get enough!
Ok, so I wasn't exactly sold on the idea of a story about a Motorcycle dudes, but ya know, this worked, or well, McGarry made it work. I like the concept of the Reign of terror as a legit club who works a clean business but still have to deal with their rivals, The Riots. I enjoyed the brotherhood and the expressive theme of loyalty that ran throughout the entire book. Their world is dangerous and extreme but at the same time it has enormous amount of respect, admiration and heart. There is a deep history here that I found fascinating and all the secrets seemed to only fuel my curiosity as everything unfolded. I loved that we don't know the whole story right away and while I usually like my reads drama free, this was the exception, it was always intriguing, moving and entertaining and all these characters made me want to keep reading till it's gasping conclusion.
There are a lot of characters that really made an impression and felt so very important to the story and really, I loved them all.
Told in both Oz and Emily's point of view, we see both sides to the coin as its being tossed in the air. Emily is a good girl who has a great life in
Florida
with her biological mother and step dad who adopted her when she was four years old. But when her real father Eli, sends the family an invite to his mother funereal in Snowflake
Kentucky
, Emily isn't very happy that she has to go see the family that abandoned her and her mom. What she didn't expect was all hell breaking loss and Emily stuck in the middle between two rivalry motorcycle clubs and a long ago buried secret that comes out to haunt her and her family.
Poor Emily. This girl really went through a lot in this book and I felt badly how she was thrown into a dangerous world she knew nothing about. But what I loved about her the most was, as intimidated as she may have been, she proved that she could more then handle her own. Oz stole the entire show for me, this guy was amazingly put together. He's strong and protective and kind and even though he can be a jerk sometimes, I loved the way he loves. I loved the way he is with special-needs children and how he loves Olivia and respects his family. He holds himself up with confidence and heart. The romance was really well done. It sizzled with both intense chemistry and hug-worthy swoon that only left me wanting more. I also really enjoyed all the other characters, they all have such unique personality that I found infectious and they brought a certain spark to the storyline, but it was Eli, Olivia and Jeff I loved the most.
Bottom line, this book was made of awesome! Nowhere but Here is exactly the kind of escape I crave in my edgy contemporary reads. It had some darker moments, sure, but it's still funny and sweet and sad and has such an unexpected warmth I never expected to find, and I simply can't wait to see where McGarry takes this world next. An instant favorite!