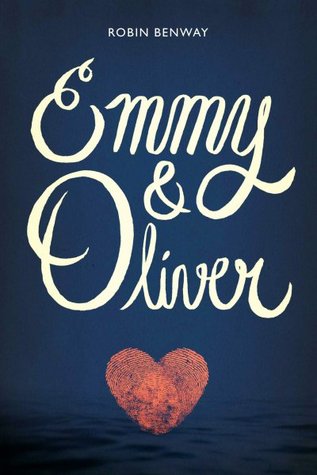 Emmy & Oliver
by Robin Benway
Publisher: HarperTeen
Release Date: June 23, 2015
ARC from Edelweiss
Emmy's best friend, Oliver, reappears after being kidnapped by his father ten years ago. Emmy hopes to pick up their relationship right where it left off. Are they destined to be together? Or has fate irreparably driven them apart?

Emmy just wants to be in charge of her own life.

She wants to stay out late, surf her favorite beach—go anywhere without her parents' relentless worrying. But Emmy's parents can't seem to let her grow up—not since the day Oliver disappeared.

Oliver needs a moment to figure out his heart.

He'd thought, all these years, that his dad was the good guy. He never knew that it was his father who kidnapped him and kept him on the run. Discovering it, and finding himself returned to his old hometown, all at once, has his heart racing and his thoughts swirling.

Emmy and Oliver were going to be best friends forever, or maybe even more, before their futures were ripped apart. In Emmy's soul, despite the space and time between them, their connection has never been severed. But is their story still written in the stars? Or are their hearts like the pieces of two different puzzles—impossible to fit together?

Readers who love Sarah Dessen will tear through these pages with hearts in throats as Emmy and Oliver struggle to face the messy, confusing consequences of Oliver's father's crime. Full of romance, coming-of-age emotion, and heartache, these two equally compelling characters create an unforgettable story.
My Thoughts:
Having read a couple of Robin Benway novels before and quite enjoying them, I was enthusiastic about the prospect of reading Emmy & Oliver. Unfortunately, the reading experience did not end up being quite what I expected. This is my attempt to explain why.
Emmy and Oliver have known each other since the day they were born. Growing up, Emmy had always realied on the fact that Oliver was there for her, and vice versa. When Oliver suddenly disappeared, everything changed. Emmy lost her best friend and her confidante, as well as any remeblance of freedom, which became a problem the older she got. Her parents, shaken by Oliver's destiny, have since his disappearance kept her tightly close to home, just to make sure that nothing similar happens to her.
Ten years since seeing Oliver the last time, Emmy is given a new chance when Oliver comes back home. Confused by what has happened to him and the way he is supposed to feel about his father and what he did, Oliver is not the same little boy anymore. He has grown up, whereas to Emmy it feels like not much has changed in the past ten years; her parents are still in control, still treating her like Oliver had just disappeared.
Connecting with Oliver does not come easily, but when it happens, Emmy feels like she has gotten her best friend back. What remains for her to do is to show to her parents that she has grown up, that Oliver is safe now and that it is time for them to loosen their grip and let Emmy make her own decisions.
The main thing that bugged me about this book is the way that it discusses parents, almost like they are just this caricature of overbearing paranoids. Emmy clearly loves her parents, but at the same time she talks about them like she has nothing in common with them, which in my opinion, is not true at all (I definitely was able to notice features of both her father and mother in her). For most of the book, her parents just seem like this "evil" entitity that do not let her to do what she wants, where in fact they just care about her. I feel like Benway intents the reader to identify with Emmy and her struggles, but I continually felt like I wanted to side with the parents and hoped for better representation of them – a representation that does not rely so heavily on the stereotypical "my mother is a ballbuster" trope and would have shown them more as individuals, not just caricatures of causes for teenage angst. I get the whole "my parents don't get me" argument – I think everyone who has been a teenager gets that – but in my opinion, it was taken way too far with this one. Or maybe I just miss my mother so much now that I am not a teenager anymore and she does not daily tell me what to do, that I just did not understand why Emmy complains all the time.
The premise of getting someone important back to your life after a long time of confusion sounded interesting to me, but unfortunately much of the discovery that could have been done on this topic was overshadowed by the whole teenagers-parents conflict. While reading, I love the feeling I get when I feel like I know the characters and can in some level identify with them, or at least understand their actions. Unfortunately, with Emmy & Oliver, I felt like I did not really connect with any of the characters and as I kept reading, I started to feel like I did not even want to connect with them. Oliver definitely is the most sympathetic of the characters in this novel, but I hope that Benway would have taken more time to his thoughts and his feelings. But since the novel is from the point of view of Emmy, we only get to experience Oliver's struggles through her eyes and unfortunately Emmy's point of view is most of the time clouded by her own problems and struggles.
To be completely honest, at around 60 % into this book, I almost gave up. I just did not see myself finishing this one and started to think about the next book I would read. But since I had accepted this book for review, I felt like it was my possibility to finish with the book before making any sort of judgements about it. Yes, now that I am writing this, there is a part of me that wishes that I would just have given up and spent the time reading something else, but on the other hand, now I can at least justifiably express why I did not like this book in a form of this review.
1 Snowflake