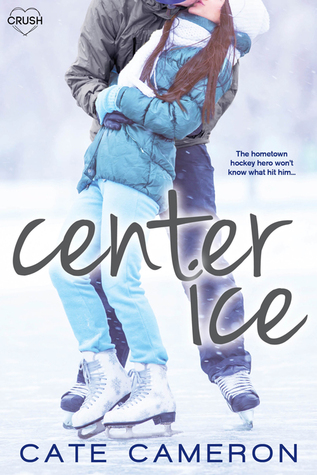 Center Ice
by Cate Cameron
Release Date: May 19, 2015
Publisher: Entangled Crush
Review Copy from Netgalley
The hometown hockey hero won't know what hit him…

Karen Webber is in small-town hell. After her mother's death, she moved to Corrigan Falls to live with strangers—her dad and his perfect, shiny new family—and there doesn't seem to be room for a city girl with a chip on her shoulder. The only person who makes her feel like a real human being is Tyler MacDonald.

But Karen isn't interested in starting something with a player. And that's all she keeps hearing about Tyler.

Corrigan Falls is a hockey town, and Tyler's the star player. But the viselike pressure from his father and his agent are sending him dangerously close to the edge. All people see is hockey—except Karen. Now they've managed to find something in each other that they both desperately need. And for the first time, Tyler is playing for keeps…
My Thoughts:
As a major hockey fan, this book sparked my interest right away. Since hockey is not as popular in US as for example football is, I find YA characters that play hockey to be a rarity that I am always willing to give a chance for. Unfortunately, Cate Cameron's Center Ice wasn't quite what I wished it would be.
After the death of her mother, Karen is forced to move to a small town called Corrigan Falls to live with her father, a man she has never really know, and his new family consisting of a wife and three children. Right away, Karen feels like she does not fit in - her father's new family seems too perfect, too put together and definitely not very interested about Karen and the problems her presence cause. During her morning jog, Karen meets Tyler and for the first time feels a resemblence of joy in her new hometown.
Tyler is on his way to NHL, at least according to his teammates. He is the captain of the team with talent and skill and the NHL only feels like the logical succession for him. But then he meets Karen and starts to question his future. Having bit a a player status, Tyler is put in a position in which he needs to prove himself to Karen, to show her that he can be serious too, that he is willing to commit. Can Karen trust Tyler? Can Tyler focus on both hockey and Karen?
Throughout, I felt like Center Ice was a bit too predictable. Tyler is the problematic star type, controlled not only by his talent but also those around him that wish to use his talent to their own gain. Karen is the sad, hurt girl who meets a guy that can make her forget her problems for a while. From the moment they connect onwards you kind of know what is going to happen - they fall in love, they face a problem and misunderstandings and then they fall in love again.
Center Ice attempts to tackle some issues related to families of both Karen and Tyler, but unfortunately is fails to go deep enough. In my opinion, Karen's grief over losing her mother is not discussed in enough detail, and though the author probably does not intend it, at points it feels like Karen is not of those girls that can forget all of her problems when a cute guy shows up. I found Tyler's family problems a bit more engaging, mostly because at those points the whole world of hockey reared up its head. I loved the locker room talk and the pressure Tyler has to go through to succeed, but unfortunately much of it is buried by the focus on the romance.
The narration of the book switches between Karen and Tyler, thus allowing the reader to get to know the characters better. This type of narration certainly opens up the hockey aspect a bit more, but I feel like often the thoughts and the feelings of the characters are a bit superficial. I also found it extremely difficult to relate to Karen in any way and I never quite managed to fall in love with Tyler. In addition, the relationship between Karen and Tyler lacks chemistry and tends to move forward quite fast.
Unfortunately, Center Ice wasn't a win for me. While it did not entertain me as much as I wished it would, I never felt like I wanted to give up on it and I did want to see what happens in the end, even though the ending was very predictable. I believe this novel is a start for a new YA series centering around the hockey team Tyler plays for and if I do get a chance, I might give the upcoming second book a go.
2 Snowflakes