Nightborn
by Lou Anders
Publisher: Crown Books for Young Readers
Release Date: July 14th, 2015
Purchase:
Amazon
From the author of "Frostborn" comes Book 2 in the acclaimed Thrones and Bones fantasy-adventure trilogy for fans of Lloyd Alexander and Brandon Mull.
Karn Korlundsson is a gamer. "Not" a riddle solver. But in order to rescue his best friend, Thianna Frostborn, he will need to travel to the faraway city of Castlebriar (by wyvern), learn how to play a new board game called Charioteers (not a problem), decipher the Riddle of the Horn, and tangle with mysterious elves.
Meet Desstra. She's in training to join the Underhand--the elite agents of the dark elves. When she crosses paths with Karn, she is not all that she appears to be.
Everyone is chasing after the horn of Osius, an ancient artifact with the power to change the world. The lengths to which Karn will go in the name of friendship will be sorely tested. Who knew that solving a riddle could be so deadly?
The novel includes instructions for playing the board game Charioteers. Visit ThronesandBones.com for additional games, maps, character profiles, and more!
My thoughts:
This was such a fun book! While I did like the first one, I absolutely adored Nightborn. It was unique and just a really fun adventure with humans, elves, dwarfs, giants, and gnomes!
Nightborn takes off pretty much where the first left off. Karn is settling into his new role and learning how to trade and
Thianna is off learning more about where her mom came from. All is okay until Karn is whisked away by a wyvern and finds out
Thianna is in trouble. Karn knows he has to help his friend so he sets out on another adventure to find
Thianna.
This story is full of adventure and I loved the introduction of the elves. I have always been a sucker for a good elf story and Lou Anders has created some interesting ones. I would honestly love another book based on just the Shadow Elves, but for now I will take what I can get.
I really loved the rich world that Anders has created. Just when I think he can't possibly throw anything else in he does and it fits like a glove! He has created a huge world that has so many possibilities and I can't wait to see what he comes up with next!
What I lacked in the first installment I more than got with this one. I fell into this story with ease and I loved looking through Karns eyes as well as his companions. This also has a very nice balance between action and storytelling. With some fantasy books they will be heavy on one side of those two, but I found this book to be very balanced which worked great for me. I loved all the history that was woven in, it just gave the book an extra spark.
This is a really fun series that I think adults will also enjoy as well as younger readers. It definitely kept my attention and I can't wait to read the next installment because not everything was wrapped up nice and neat and I need to find out what happens!! Plus I think we will finally get to see Thica and I have been dying to see it!!
Also I have some exciting news to share! The first book the Thrones & Bones series, Frostborn, has just been released in paperback TODAY!! You won't want to miss the first adventure of Karn and Thianna so be sure to click on the links below to purchase your copy!
Amazon
/
B&N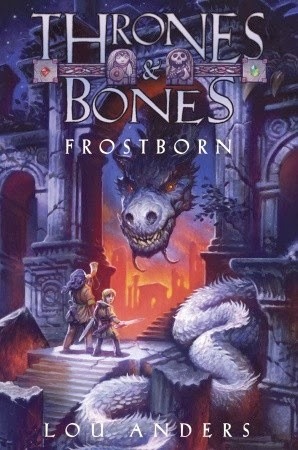 Meet Karn. He is destined to take over the family farm in Norrøngard. His only problem? He'd rather be playing the board game Thrones and Bones.

Enter Thianna. Half human, half frost giantess. She's too tall to blend in with other humans but too short to be taken seriously as a giant.

When family intrigues force Karn and Thianna to flee into the wilderness, they have to keep their sense of humor and their wits about them. But survival can be challenging when you're being chased by a 1,500-year-old dragon, Helltoppr the undead warrior and his undead minions, an evil uncle, wyverns, and an assortment of trolls and giants.
PRAISE
"Frostborn is the fantasy adventure book I wish I'd had when I was a kid."
–
Charlie Jane Anders, i09
"While I cut my fantasy-reading teeth on the works of Margaret Weis & Tracy Hickman's DragonLance and Darksword, I would have gobbled up this book at that age. Hell, I thoroughly enjoyed it at my current age."
–
Rob H. Bedford, SF Signal
"Future fans of Tolkien and George R.R. Martin can happily cut their serial-fantasy teeth on this first book of an eventual series."
─
Kirkus Reviews
⋆"The setting is rich, the characters well-defined, and the danger ever-paramount. It's a strong and thoroughly enjoyable start to the Thrones and Bones series."
─
Publishers Weekly, Starred Review
". . . adventure fans will enjoy the action, the Norse background, and the occasional flash of humor."
─
Booklist Reviews
"Anders sculpts a rich world filled with his deep sense of family and fantasy into this powerful journey of discovery and friendship not seen since Alexander first introduced readers to Prydain."
─
Scott Taylor, Art of the Genre
"Lou Anders's FROSTBORN is sure to appeal to young readers looking for a dose of monsters and magic. Not just a classic fantasy romp, Anders's debut novel explores the experience of feeling young and out of place in a world that refuses to see you for who you are—something readers of all ages can identify with."
─
James L. Sutter, author of Death's Heretic
ABOUT LOU ANDERS
LOU ANDERS's research on Norse mythology while writing book one in the Thrones and Bones series, FROSTBORN, turned into a love affair with Viking culture and a first visit to Norway. Anders is the recipient of a Hugo Award for editing and a Chesley Award for art direction. He has published over 500 articles and stories on science fiction and fantasy television and literature. A prolific speaker, Anders regularly attends writing conventions around the country. He and his family reside in Birmingham, Alabama. You can visit Anders online at louanders.com and ThronesandBones.com, on Facebook, and on Twitter at @ThronesandBones.