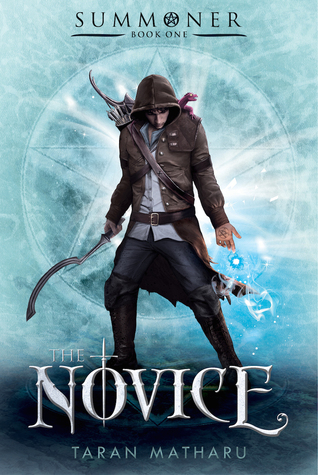 Publisher-
Feiwel and Friends
When blacksmith apprentice Fletcher discovers that he has the ability to summon demons from another world, he travels to Adept Military Academy. There the gifted are trained in the art of summoning. Fletcher is put through grueling training as a battlemage to fight in the Hominum Empire's war against orcs. He must tread carefully while training alongside children of powerful nobles. The power hungry, those seeking alliances, and the fear of betrayal surround him. Fletcher finds himself caught in the middle of powerful forces, with only his demon Ignatius for help.

As the pieces on the board maneuver for supremacy, Fletcher must decide where his loyalties lie. The fate of an empire is in his hands. The Novice is the first in a trilogy about Fletcher, his demon Ignatius, and the war against the Orcs.
My Thoughts:
The Novice
, is a fun filled high fantasy adventure that was an impressive entertaining escape. I had a lot of fun reading this book and really enjoyed the concept. It has it's share of politics and war between the commoners, nobles and fantastical beings such as; orcs, elvens, germlines, summoners and demons, but the flow and pace of the story was even and always intriguing, the world building was rich and vivid, the writing was crisp and the character were all witty and wonderfully likeable.
Fifteen year old, Fletcher Wulf was abandoned at the gates of Pelt when he was just a baby, but was raised by Berdon, the villagers blacksmith when no one else would take him in. He's never forgiven his mother for leaving him, but he's got a good home where he is given affection and respect and even though some of the villagers are arrogant, Fletcher can more then handle his own. But his whole life changes the moment he receives a parting gift, a Summoner's book. When Fletcher manages to summon a rare demon and gets in some trouble, he finds himself landing at the
Vocans Adept
Academy
where he will learn spellcrafting and be trained as a battlemage.
A little LotR, some GoT and a dash of HP, this particular escape has just about everything I love in a fantasy book. Though, for those who know me wont find it surprising that my favorite part of this book was the academy. I have a thing for academy books and this one is just as fun as I imagined . I loved learning along with Fletcher and the students about how to connect, control and channel their demons, the history, the Ether and the magic of it all. It was really cool to see the training and different races throughout the school while Matharu throws in a few twist and turns to keep it suspenseful, gripping and exciting. I also really enjoyed the characters, Fletcher, Genevieve, Rory, Othello and Sylva and of course all their demons, but Ignatius was my favorite. They all brought something fun and unique to the storyline. The ending left us on a bit of a cliffy, so I'm really looking forward to the next book and there isn't any really romance in this one, but the action and intrigue more then makes up for it that it's not an element I missed.
In all, The Novice turned out to be a great story that combines fantasy, paranormal and magic that was intense, captivating and wildly entertaining. This was indeed a promising start to a series I greatly look forward to continuing. Well done!
Giveaway! The wonderful people at Macmillan have graciously offered to send one lucky reader their very own copy of The Novice! Enter for a chance below!
US Only
a Rafflecopter giveaway
To find out more about Novice visit these links which include an excerpt!
Be sure to visit the rest of the tour stops!