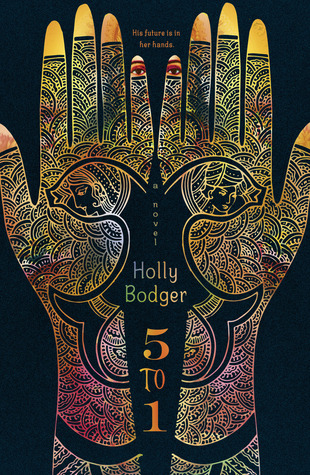 5 to 1 by Holly Bodger
Release Date: May 12, 2015
Publisher: Knopf Books for Young Readers
Buy links:
Amazon | iBooks | Barnes & Noble | The Book Depository
In the year 2054, after decades of gender selection, India now has a ratio of five boys for every girl, making women an incredibly valuable commodity. Tired of marrying off their daughters to the highest bidder and determined to finally make marriage fair, the women who form the country of Koyanagar have instituted a series of tests so that every boy has the chance to win a wife.

Sudasa, though, doesn't want to be a wife, and Kiran, a boy forced to compete in the test to become her husband, has other plans as well. As the tests advance, Sudasa and Kiran thwart each other at every turn until they slowly realize that they just might want the same thing.

This beautiful, unique novel is told from alternating points of view-Sudasa's in verse and Kiran's in prose-allowing readers to experience both characters' pain and their brave struggle for hope.
My Thoughts:
Year 2054. India. The state of Koyanagar. After decades of girls being treated as the second best for boys, there's now a new order and new established which has made it so that there is a ration of five boys for every girl. Girls have becomes like princesses, precious and fought for, whereas the lives of boys have become entirely controlled by the decisions the state and girls make – be selected for a marriage and live in comfort for the rest of your life or fail to get married and be sent to the wall to protect the fate of Koyanagar.
5 to 1 follows the stories of Sudasa, a girl who is forced to select her future husband and Kiran, a boy forced to compete for a chance to spend his life with Sudasa. Through testing, the process of selecting the most suitable husband for a girl, the fates of Sudasa and Kiran get intertwined as they start to notice the flaws in their society always deemed to be a perfect system for everyone.
I was really intrigued by this idea of a society where girls have become a rarity, especially when it is connected to India, which in reality is very much the opposite, unfortunately. In Bodger's 2054 representation, boys and men are almost like slaves, allowed to speak only about certain things, constantly living under the scrutiny of their mother in laws and other matriarchs of the society. The world Bodger has created is so full of promise that it is kind of disappointing that it is not developed further. Bodger does not engage in extensive world building, but rather tells the story through the alternating point of views of Sudasa and Kiran, allowing the reader to delve into this fictional world through two very different perspectives.
Sudasa's point of view is narrated in verse, which I really enjoyed. The lyrical language Sudasa uses to describe those around her and the society that she lives in works really well and adds a very special touch to this novel. The prose by Kiran might lack the lyricality of Sudasa, but it is a lot more descriptive and in some sense much more relatable. In this society, Kiran is the everyman, someone that you can find it easy to relate with, whereas Sudasa feels somewhat distant, almost like a royal. As Sudasa makes discoveries about her status and society, she voice gets more relatable. She starts to understand that what really makes her different is the decisions that woman like her grandmother have made and nothing else. And though her high status brings her comfort and security, can she really enjoy that when she knows that others are deprived of that so easily.
I am not that familiar with Indian culture that I could judge whether Bodger has done justice to it or described it accurately (of course some of these things are of her own creation due to the futuristic setting, but there are also things, especially vocabulary, that can most likely be connected to Indian culture of today). Due to its character centricity, the novel unfortunately is a bit slim in description of the world and the society. I do not mind character centric books at all, but I just feel like the world Bodger has created here has so much potential that the fact that we don't get to know that much about is a pity.
5 to 1 is a beautifully written, quick read with two distinctive point of views. It is an interesting study of a society where girls and women have taken control, a society where the only purpose for men is to ensure that women can keep giving birth to more girls. The contemporary, male focused Indian society has been turned upside down in an interesting, terrifying way that definitely make this novel worth a read.
3 Snowflakes
About the Author
HOLLY BODGER
has a BA in English Literature and has spent her entire career in publishing. She is an active member of RWA and is a 2013 Golden Heart finalist in the Young Adult category. She lives in Ottawa, Canada.
Giveaway!!