Today on WinterHaven Books we have the amazing Jessica Warman with us again! I absolutely adore her and I am so excited to participate and kick off the blog tour for her newest book The Last Good Dy of the Year.
Welcome back Jessica! It's so good to have you with us again!
Thank you for having me! It's wonderful to be back!
1. The Last Good Day of the Year was amazing! I loved the quiet suspense that was woven throughout the book. Was it hard to keep that kind of momentum throughout the entire book?
Thank you so much! It means everything to me that you enjoyed it, because it actually was so, so tough to stay focused on this book. There was a ton of upheaval in my day-to-day life. I was in the middle of moving from Pennsylvania to Texas with my family for my husband's work, and we didn't know a soul. I'm ordinarily quite disciplined when it comes to my writing routine, but once it's been sufficiently disrupted, I tend to fall apart. And even under the best circumstances, thrillers and crime novels are about bad people doing bad things to good people, which can be an exhausting bummer for an author to spend day after day with. I'm thrilled with how the book has turned out, but I'm also glad I'm finished with it.
2. I have to say that ending was one of the tensest I have ever read. I could actually see it playing out on a big screen! Did you know from the beginning how things would end for your characters?
I did, actually! Plotting can be a weakness of mine, and this book jumps around chronologically so much, as well as switching from the actual book to the nonfiction book-within-the-book… there was a lot to keep track of, so I wrote a detailed outline when I started the first draft. I don't usually do that. I should do it; it makes the process much easier when I have at least a broad sense of how everything will end. And while I deviated somewhat from the plan and tinkered with the ending over and over again, it was essentially the same in each draft. I knew exactly what I wanted for these characters.
3. Why did Gretchen hide Michael from her family?
It made sense to me that Gretchen would want to keep Michael entirely separate from what was going in in Shelocta. If Shelocta embodies all of Gretchen's worst mistakes and biggest regrets, Michael represents her new beginning. I also think she wanted to protect him from potentially being accused of knowing why she returned to Shelocta in the first place, and not doing anything to stop her.
4. Did you do any research into kidnappings?
I did so. Much. Research. It was exhausting and sad and generally not at all enjoyable to spend hour after hour on Wikipedia, reading about one kidnapping after another. Ugh, what a world. It was depressing, and I don't mean that flippantly; I became genuinely depressed and anxious and overprotective of my kids. Now I know everything there is to know about famous kidnappings – JonBenet Ramsey, the Oakland Child Murders – and it's not the most pleasant information to have bouncing around my brain. I keep telling my husband that I'm only watching and reading comedy for the next year to sort of cleanse my palate, yet as I'm typing this I have Silence of The Lambs playing on Netflix. I don't know what's wrong with me.
5. Out of all your books which one was your toughest to write and which one was your favorite to write?
Without question, this one was the toughest, for all the reasons I mentioned above. Between was probably my favorite book to write. That story poured out of me – it was such a pleasure. I was also incredibly regimented throughout the whole writing process for Between. I would go running every morning and think about the book as I ran, and then I'd come home and write for hours each afternoon. Routine makes such a difference for me.
6. This story will stay with me a long time I can promise you that. What story have you read lately that has stayed with you?
I'm in the middle of reading The Little Friend by Donna Tartt right now, and I already know it's a book I won't soon forget. The writing is beautiful – I love all of her books – and the story is exactly the kind of creepy that I'm always looking for in a thriller.
7. Do you have any plans to visit Austin? I would love to meet you!!
It's funny you should ask – I'm actually going to Austin for the weekend later today! We'll be staying way out in the hill country, though, about an hour from the city itself. But I love Austin, so I'm sure I'll be back soon!
Thanks so much for stopping by Jessica! I loved your answers and hopefully one day we will meet in Austin!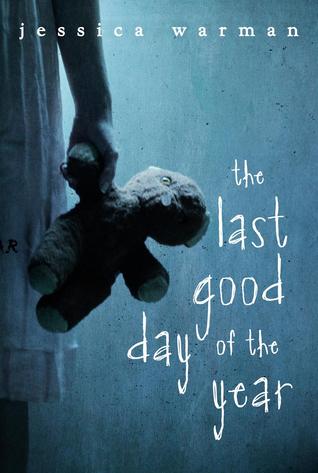 The Last Good Day of the Year
by Jessica Warman
Publisher: Bloomsbury
Release Date: May 19th, 2015
Purchase:
Amazon
A new powerful thriller from the globally-embraced author of Between.

Ten years ago, in the early hours of New Year's Day, seven-year-old Samantha and her next door neighbor, Remy, watched as a man broke into Sam's home and took her younger sister, Turtle, from her sleeping bag. Remy and Sam, too afraid to intervene at the time, later identified the man as Sam's sister Gretchen's much older ex-boyfriend, Steven, who was sent to prison for Turtle's murder.

Now, Sam's shattered family is returning to her childhood home in an effort to heal. As long-buried memories begin to surface, Sam wonders if she and Remy accurately registered everything they saw. The more they re-examine the events of that fateful night, the more questions they discover about what really happened to Turtle.

Master storyteller Jessica Warman keeps readers guessing in this arresting page-turner.
My thoughts:
I have never read a book that gave me chills throughout. Some have given me chills in the beginning, some at the end but never throughout the entire book until now.
The Last Good Day of the Year was amazing. Jessica Warman has written a story that from the first page gave me chills. This story has a quiet suspense that creeps up on you from the beginning and doesn't let go. I could feel the suspense, but it wasn't consuming it was just there kinda looking at me waiting. I knew there was something lurking that would only reveal itself when it was ready and man when it did my mind was officially blown.
The story is about Samantha a 17 year old girl who has just moved back to her hometown. This move puts her family right back where they have been running from the past 10 years. See Samantha's sister Tabitha was stolen 10 years ago and with nowhere else to turn after her dad loses his job they return to the same house that she was stolen from. That's crazy enough, but when Samantha starts questioning what she saw that night things get even more crazy and the story explodes.
I am a huge fan of creepy and this story is in my top 5 favorites of all time. What made it truly amazing though was that it was quiet. I loved that I got so wrapped up in the story and backstory of the characters that I didn't pick up on the subtle clues that were woven throughout. I just fell into this knowing that whatever needed to be revealed would be revealed, I didn't need to figure it out on my own. I just enjoyed the chills.
Each character plays a crucial part in this story and I was sometimes a little confused at times, but it just didn't matter. Everything came together at the end and made sense in time. I trusted the author to take me where she wanted and that's sometimes hard for me, but in this case it was super easy.
Loved this story! The only thing I want is one more chapter a year down the road. I need to know where these characters are!!
5 snowflakes
About Jessica Warman
JESSICA WARMAN is the author of Breathless, Where the Truth Lies, Between, and Beautiful Lies, which have received seven starred reviews among them. Between was published in a total of twelve countries around the world. Jessica has an MA in creative writing and recently moved to Houston, Texas. Find her online at www.jessicawarman.com and on twitter @jkwarman.
Giveaway! This giveaway is sponsored by the amazing Bloomsbury and is open to US residents over 13. Fill out the Rafflecopter below to enter.
Good Luck!
a Rafflecopter giveaway
Also be sure to stop by the rest of the amazing blogs participating in the blog tour.
May 29th
à
Novel Novice