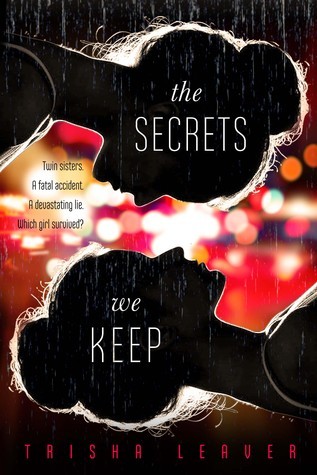 The Secrets We Keep
by Trisha Leaver
Publisher: Farra, Straus, Giroux (BYR)
Release Date: April 28, 2015
Purchase:
Amazon
A girl takes over her twin sister's identity in this emotionally charged page-turner about the complicated bond between sisters.

Ella and Maddy Lawton are identical twins. Ella has spent her high school years living in popular Maddy's shadows, but she has never been envious of Maddy. In fact, she's chosen the quiet, safe confines of her sketchbook over the constant battle for attention that has defined Maddy's world.

When—after a heated argument—Maddy and Ella get into a tragic accident that leaves her sister dead, Ella wakes up in the hospital surrounded by loved ones who believe she is Maddy. Feeling responsible for Maddy's death and everyone's grief, Ella makes a split-second decision to pretend to be Maddy. Soon, Ella realizes that Maddy's life was full of secrets. Caught in a web of lies, Ella is faced with two options—confess her deception or live her sister's life.
My Thoughts:
This book was pretty good. I don't know why but the last I would say 3 books I have picked up have been about twins so I am guessing this is going to maybe be the new trend? This one did stand out among the others I have read though and that's always a good thing.
Maddy and Ella are twins. Aside from their looks though they are nothing alike. Maddy is the popular one and the center of attention. Ella is the quiet artist and the one left behind when Maddy turns to the popular crowd. With a lot of animosity between them Ella and Maddy hardly know each other anymore, but when Maddy calls Ella for help Ella goes with out a second thought. Unfortunately the unthinkable happens and someone finds themselves in a horrible predicament. What happens next is truly heartbreaking and really made me fall into this unique storyline.
Like I said this was a good read. I sympathized with Ella and Maddy both for different reasons, but it was Ella who really stole the spotlight for me. I think the author focused more on Ella so I felt more connected to her and her journey. Maddy had a lot of problems that were self inflicted and it took me awhile to really connect with her. Overall though both girls held me captivated.
The one thing that bothered me though was the whole story felt kinda shallow. I don't mean superficial, I mean it felt like the author just skimmed the surface with it. I think this story could have been incredible, but it felt like the author held a lot back. I ended up kind of frustrated because I wanted to delve into this dark storyline and I didn't get to. I feel like the author could have really pushed the envelope with this.
Okay one more that bothered me was that if you read the first 3 chapters you will figure out where the story was going. This didn't bother me, but what did was that the author built this one situation up and then it all fell apart rather quickly. I expected certain things to play out differently because the author gave that character the assets she needed to pull things off. I didn't understand why she was so clueless after knowing so much. That probably doesn't make much sense but if you read this you will understand.
So yes I did have a few problems with this but it did stand out to me and was a good story. My disappoints just lie with the fact that I wanted more. I wanted something deeper and darker and this really had the potential for both. As is though it was a unique story that captured my attention.
3.5 snowflakes