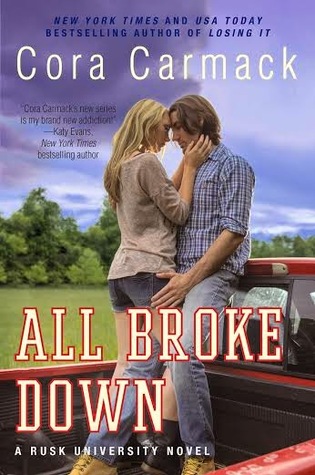 All Broke Down (Rusk University #2)
by Cora Carmack
Release Date: October 28, 2014
Publisher: William Morrow Paperbacks
In this second book in New York Times and USA Today bestselling author Cora Carmack s New Adult, Texas-set Rusk University series, which began with All Lined Up, a young woman discovers that you can't only fight for what you believe in... sometimes you have to fight for what you love.

Dylan fights for lost causes. Probably because she used to be one.

Environmental issues, civil rights, corrupt corporations, and politicians you name it, she's probably been involved in a protest. When her latest cause lands her in jail overnight, she meets Silas Moore. He's in for a different kind of fighting. And though he's arrogant and infuriating, she can't help being fascinated with him. Yet another lost cause.

Football and trouble are the only things that have ever come naturally to Silas. And it's trouble that lands him in a cell next to do-gooder Dylan. He's met girls like her before fixers, he calls them, desperate to heal the damage and make him into their ideal boyfriend. But he doesn't think he's broken, and he definitely doesn't need a girlfriend trying to change him. Until, that is, his anger issues and rash decisions threaten the only thing he really cares about: his spot on the Rusk University football team. Dylan might just be the perfect girl to help.

Because Silas Moore needs some fixing after all.
My Thoughts:
This second book to Cora Carmack's Rusk University series BLEW MY MIND AWAY. I loved
All Lined Up
, so my expectations for this one were high too, but I never even dared to experience the level of awesomeness this one delivered.
Dylan is known to fight for what she cares about. She feels like for her whole life, she has been fighting to get acceptance and to be loved. Her parents love her and she loves them, but at the same time, she feels like she can never fully be herself around them. She has had two serious relationship in her life, the longest of them with Henry, the guy who's perfect on paper and loved by her family. So when Henry leaves her and her latest cause, a homeless shelter in the city, lands her in jail, she has a feeling that things are falling apart. But then she meets Silas Moore, a gorgeous, enigmatic young man who's in jail for fighting and everything changes.
Silas Moore was a complete douche in
All Lined Up
. But in this one we see a COMPLETELY different side of him and I must admit that I now love him more than I love Carson. Silas is arrogant, temperamental and yes, bit of a douche, but he is also broken and misunderstood. What I really love about Cora Carmack's characterisation of him is the fact that though he might have violent tendencies or a temperament, he never hurts Dylan. He talks her dirty and has sex with her, but only when she's okay with it. I am so tired with new adult male characters who are glorified despite the fact that they are abusing both mentally and physically. Silas is not that, and that is why I love him. Constantly while reading this book, I kept thinking of Tim Riggins (one of my future husbands for sure) from Friday Night Lights, making connections between the two characters. I am happy that towards the end, I started to see Silas as his own individual, but at the same time, I did not mind at all the fact that every single time Silas was present on the page, I had the image of Tim Riggins at the back of my mind. They for sure share similaries and to be completely honest, I am dying to talk to with someone about them both.
Though the development of the relationship between Dylan and Silas might feel a bit quick for some readers, I did not mind it because at the end of the day, it is not instalove. It's more like insta-attraction, which I totally get, mostly because I feel it towards so many fictional characters, celebrities and professional ice hockey players. They become friends (with some benefits) and through getting to know each other, they learn something new not only about each other, but about themselves as well. Yes, there are some sexy times here, but throughout, the sexual encounters feel natural and like they actually have a purpose within the narrative. Carmack's prose is touching, romantic and also incredibly funny – I laughed out loud several times while reading this book, which is something that does not happen very often.
What I really enjoyed about the first novel and what I kept loving about this one as well is the sports setting. Though football is not really my piece of cake, I also happen to be in love with a team sport, ice hockey, and always find myself really enjoying novels that deal with the team dynamic and a relationship between someone who's on the team and someone who's not. Honestly, the only thing that would make me love these books even more is if they were set around an ice hockey team instead of a football time. But then at the same time, I probably would not have made the Tim Riggins connection if the football wasn't involved and really, you should know, I am always greatful when I get a chance to think about Tim Riggins. ALWAYS.
5 Snowflakes