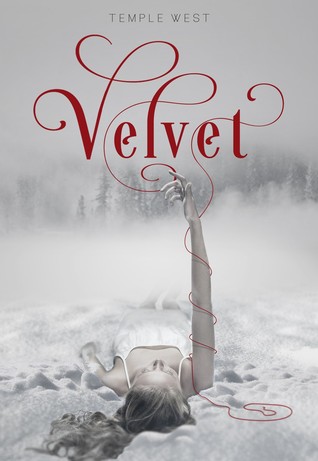 First rule of dealing with hot vampire bodyguards? Don't fall in love.

After losing both her parents before age seventeen, aspiring designer Caitlin Holte feels like her whole world has been turned upside down, and that was before the terrifying encounter with a supernatural force. Then, she learns that her hot bad-boy neighbor, Adrian—who might have just saved her life—is actually a half-demon vampire.

Suddenly Caitlin is stuck with a vampire bodyguard who feels that the best way to protect her is to become her pretend boyfriend. Trouble is, Caitlin is starting to fall in love for real, while Adrian can never love a human. Caitlin trusts Adrian to keep her safe from his demon father, but will he be able to protect her heart?
My Thoughts:
Ah, now this was a great read! My first love in reading has always been paranormal and it's been a long while since I've been able to read a vampire book, so this book was a pleasantly fun escape.
I really enjoyed West's writing, it's strong and the pace and flow was steady, smooth and always interesting. I really loved this particular twist on vampire lore. There is some traditional elements, but for the most part this was rather unique and imaginative and I enjoyed the emotional approach concept and I
also liked the combination of vampires, demons and even a little scientific in the way of explanation, it may seem a little out there to some, but given this is myth/legend it didn't feel that way for me, just a new fascinating take on an old lore that has me completely absorbed no matter how many vampires stories I've read.
The plot was rather cool, the spin was a lot of fun and extremely creeptastic and the characters were
great, realistically flawed and easy to connect with. I also loved the setting and thought it fit the tone of the book perfectly.
Ok, so Caitlin wasn't exactly easy to get along with when we first meet her. She's bitter, reckless and even cruel. I get that her mother passed away and she's feeling empty and angry and wants to blame the world, but it started to get a little annoying with the way she was treating everyone. But, as the story moves on, I started to realize that her emotional state actually plays a bigger role in the overall story, so it was easier to overlook and thankfully, bitter Caitlin started to act a little more human. I ended up really enjoying her funny personality and witty attitude, she's got great spunk, feist and a big heart.
As for
Adrian
? I couldn't help love him from minute one. Mysterious, fiercely protective and intense at first but then eventually we got the more playful, warm and even a little adorably nerdish Adrian that I couldn't help love even more. There was a moment there where his hot/cold attitude was a little frustrating, but it was easy to forgive given the impending situation and how far Adrian would go to protect Cait. I simple adored the friendship between Adrian and Caitlin. They have the greatest chemistry, banter and sarcasm and were so incredibly funny, sweet and cute with real moments that made me smile all big and stupid. Forbidden romance and rules be damned. These two belong together. Period.
This has a decent ending, but it's totally lined up for more which is great since I'm simply not ready to let go of these amazing characters or this world quite yet.
All in all, this was a really fun entertaining escape that has just about everything I want in my vampire books. Action, intrigue, and swoon-worthy romance. West is a great new voice for paranormal romance and I can't wait to find out what happens next! An excellent debut!
WinterHaven Books is offering one lucky winner the chance to win an ARC copy of Velvet! US and Canada only. Good luck!
a Rafflecopter giveaway