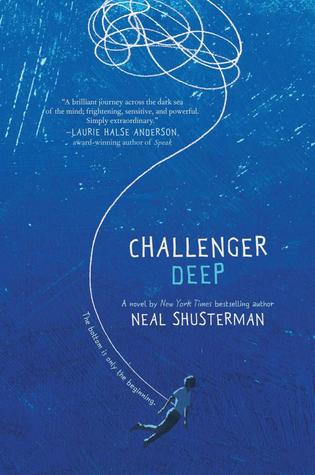 Challenger Deep
by Neal Shusterman
Release Date: April 21, 2015
Publisher: HarperCollins
Review Copy from Edelweiss
Caden Bosch is on a ship that's headed for the deepest point on Earth: Challenger Deep, the southern part of the Marianas Trench.

Caden Bosch is a brilliant high school student whose friends are starting to notice his odd behavior.

Caden Bosch is designated the ship's artist in residence, to document the journey with images.

Caden Bosch pretends to join the school track team but spends his days walking for miles, absorbed by the thoughts in his head.

Caden Bosch is split between his allegiance to the captain and the allure of mutiny.

Caden Bosch is torn.

A captivating and powerful novel that lingers long beyond the last page, Challenger Deep is a heartfelt tour de force by one of today's most admired writers for teens.
My Thoughts:
Being a book blogger and an avid Twitter user, it seems to me like I've been seeing the name of Neal Shusterman around for years. His name and his books seem to attract a lot of acclaim and admiration and especially his writing style always seemed like something I should be aware of. When the possibility to review Shusterman's upcoming release Challenger Deep was given to me, I decided that it is finally time for me to see what everyone's talking about.
Challenger Deep is definitely one of the most unique books I've ever read. I know I've been throwing the word 'unique' around a lot recently, but seriously, it seems like so far this year I have ended up reading books that all have left an impression of uniqueness on me. And hey, that's something I love. For so many years I have faced with one generic paranormal love story after another than right now, I take anything that's not been copied from
Twilight
. But anyway, back to the topic. So yes, Challenger Deep is something I haven't read before. At first, I must admit I was a bit confused and not quite sure whether this book was for me. But due to the short chapters and the intriguing, unrelatable narrative voice, I kept going. And wow, once I got to the point that everything started to make sense, I realized how brilliant this book really is.
In order not to give too much away from this book, I will stick pretty tightly to the Goodreads synopsis. In Challenger Deep, the reader is introduced to Caden Bosch who seems to inhabit two different realities and two different stories. Some know him as one of the crewmates of the ship heading to the deepest point on earth, whereas others identify him as the 15 year old high school student who is suddenly acting very strangely. As the book processes, this two realities start to come together in quite surprising ways.
Mental health and the stigma surrounding it really seems to be a trend with YA novels this spring. For me, Challenger Deep was probably the fourth book this year that extensively focuses on character with mental health problems and in the ways he is seen by those that surround him. Once again, I must express my gratitude about the fact that books like this are written – the importance of making young people aware of the complexities of mental health issues cannot be expressed in words. The author's note at the end of the book gives this book even more credibility, which makes this book definitely one of the best, most honest books I've ever come across about mental health issues.
When I was finally introduced to Shusterman's prose, I asked myself "Milka, why have you acted like an idiot and not read the books of this man before?". Seriously, his prose is that good. It is vivid, descriptive, beautiful and lyrical. The way he builds these two worlds, Caden at the boat and Caden as a high school student, is so masterfully done and throughout holds a tension about what is going to happen next. I am always a big fan on unreliable narration, and in Challenger Deep I found probably the most unreliable narrator I've ever come across on in YA literature. So if you are into that sort of thing, this DEFINITELY is for you. There are also some cool illustrations in this book, to which reading this from Kindle probably did not do justice. But if you get a chance to see the physical copy, definitely check the illustrations! I am definitely going to do so once this hits the shelves.
Challenger Deep isn't the easiest book to read. Though the chapters are short and the narrative flows well, I felt like I had to take breaks from the reading just because the subject matter feels so heavy. Though I am all for binge reading, this, at least for me, wasn't a binge reading type of title. Rather, I read for a while and then let everything I had read to simmer in my mind. And I am happy I did it that away because I feel like I was able to get more out of this book. But whether you are a binge reader or a let-it-simmer kind of reader, you definitely should check out Challenger Deep.
4 Snowflakes