Welcome to Teaser Tuesdays! Teaser Tuesdays is a weekly bookish meme, hosted by MizB of
Should Be Reading
. Anyone can play along! Just do the following: Grab your current read Open to a random page Share two (2) "teaser" sentences from somewhere on that page BE CAREFUL NOT TO INCLUDE SPOILERS! (make sure that what you share doesn't give too much away! You don't want to ruin the book for others!) Share the title & author, too, so that other TT participants can add the book to their TBR Lists if they like your teasers! My Teaser Tuesday is for the following...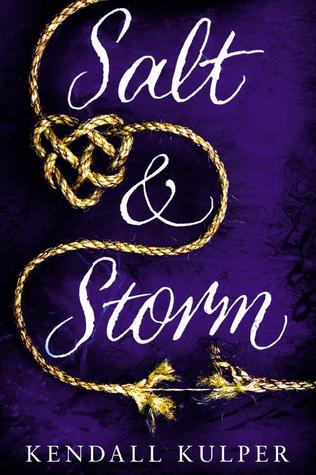 Salt & Storm by Kendall Kulper
Expected Publication: September 23, 2014
Publisher: Little Brown Books for Young Readers
Blurb:
A sweeping historical romance about a witch who foresees her own murder--and the one boy who can help change her future.
Sixteen-year-old Avery Roe wants only to take her rightful place as the witch of Prince Island, making the charms that keep the island's whalers safe at sea, but her mother has forced her into a magic-free world of proper manners and respectability. When Avery dreams she's to be murdered, she knows time is running out to unlock her magic and save herself.
Avery finds an unexpected ally in a tattooed harpoon boy named Tane--a sailor with magic of his own, who moves Avery in ways she never expected. Becoming a witch might stop her murder and save her island from ruin, but Avery discovers her magic requires a sacrifice she never prepared for.
*Quotes are taken from an Advanced Readers Copy.*
Quotes from book pages: 178 & 184
"And what could she do?" Tane asked, smiling. "Breathe fire? Curse anyone she didn't like with freckles?" he reached up to tweak my nose, and I laughed softly.
"I think..." He took a slow, rattling breath and brushed the knuckles of his fingers, gently, against my cheek. "I think...I am coming back to life."
PLEASE LEAVE A COMMENT with either the link to your own Teaser Tuesdays post, or share your 'teasers' in a comment here if you don't have a blog Thanks!