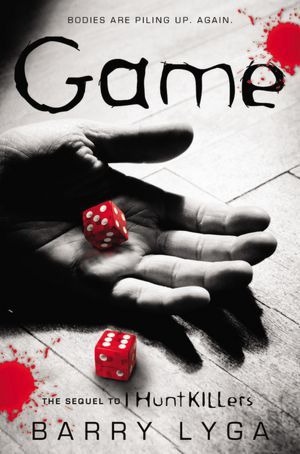 Game (Jasper Dent, #2)
by Barry Lyga
Publisher: Little Brown Books for Young Readers
Release Date: April 16, 2013
Purchase:
Amazon
Billy grinned. "Oh, New York," he whispered. "We're gonna have so much fun."

I Hunt Killers introduced the world to Jazz, the son of history's most infamous serial killer, Billy Dent.

In an effort to prove murder didn't run in the family, Jazz teamed with the police in the small town of Lobo's Nod to solve a deadly case. And now, when a determined New York City detective comes knocking on Jazz's door asking for help, he can't say no. The Hat-Dog Killer has the Big Apple–and its police force–running scared. So Jazz and his girlfriend, Connie, hop on a plane to the big city and get swept up in a killer's murderous game.
My Thoughts:
Well if there is one thing I have learned from this is that sometime serial killers will get sloppy when they think they have everyone fooled. This book is just like a serial killer. The first in the series was stealthy and quietly creepy while this installment is filled with plot holes and unbelievable stupidity...sloppy.
In the previous installment we are left knowing that Billy has escaped prison and is in hiding. Jasper is back with his grandma and just trying to keep the press at bay. When a New York cop comes to get his opinion on a recent serial killer, Jazz is thrown back into this crazy and violent world.
The book starts off super creepy. I mean we get the killers POV right from the get go and I just knew this book was going to be way more violent than the first. I wasn't wrong in that let me tell you. From victims being gutted, paralyzed, and eyeballs being taken it was definitely a gross ride. This didn't bother me though, yes it was gross but it gave the book a whole new level. I at first wondered if the gore was going to take center stage and the story fall off, but that didn't happen. No what happened was the characters took a weird turn and ruined the story.
I'll start with Connie. WTH?! I loved her in the first installment! She was amazing as the girlfriend and she didn't take any of Jazz's BS. In this book its like someone hit her over the head with a TSTL bat! She makes incredibly stupid decisions and the whole time I just sat there reading her POV thinking why are you so stupid??!! I mean you are dealing with a major serial killer here! She knows what he is capable of, but does she think NO! She goes off to NY by herself to help Jazz because of course she has the knowledge to capture the killer. I mean she is an actor so why can't she play the role of detective?? It was just so horribly wrong and I hate that she manipulated her parents. I am happy that her parents where present and wanted to ground her and they did make every effort to stop her. She just pulled a TSTL scam and well I won't say what happens but man I have never been so happy with a cliffhanger before. I knew this one would have one so I wasn't surprised, but what did surprise me was that I was happy about it. I was waiting for a particular moment with her and when it happened I felt relief. I know I sound horrible and no I don't want her to die. I am just thankful for that cliffhanger because it will finally give her the scare she needs to stop thinking like she is Sherlock Holmes!
Okay now on to Jazz. He was he Jazz from the first book, but he got sloppy and over confident too and that bothers me. I looked forward to him being this bad arse serial killer hunter and well he let me down. A lot of things slipped by him and I know that he is only seventeen, but I got used to him acting older and looked at him as older. After this book he is definitely seventeen. I really thought especially after the predicament that he was in in the first one he would have learned to look at all angles and not take anything lightly. He didn't learn! It really bothered me because again he is supposed to be all knowing. And when he did finally break the puzzle no one listened to him. He explained with detail what was going on and it was like everyone thought he was crazy. The cops go to him and believe every word he says right up until he breaks the case. Yep it was just too convenient, by having everyone think he was crazy pushed him to do stupidly careless things. I really wish the author would have stayed true to his character.
Howie I don't really have any problems with I suppose. He is secondary character that has quirks. These quirks do get a little annoying at times, but for the most part I am okay with him. I am worried after his last stunt though that he has been hit with the same bat as Connie. Time will tell though.
What truly baffles me is that I don't get why the author chose to add in all this extra stuff. The storyline definitely could have held its own without all the extra character stories. I didn't need to live inside of Connie's head to see where she would end up and I definitely don't get why I had to live inside of Howie's. It just doesn't add up and the story just didn't need it. I was more engrossed when Jazz was front and center. I will say that the killer reveal wasn't really what I was thinking. I don't understand where this story is going and I just tend to lean towards the author getting sloppy. Nothing connects and I am assuming its because there is a third book, but at this point I am so confused as to what game is actually being played. I am not sure I will be able to puzzle through all this nonsense. I think the author got cocky and got sloppy. He already had a fan base and so decided that he didn't need to work as hard to keep things organized just like his serial killer characters.
This is all just my opinion and I am definitely going to read the last book in the hopes that the author tightened up his storyline and with certain characters in certain predicaments I am also hoping that Jazz takes center stage again.