Welcome to Teaser Tuesdays! Teaser Tuesdays is a weekly bookish meme, hosted by MizB of Should Be Reading. Anyone can play along! Just do the following: Grab your current read Open to a random page Share two (2) "teaser" sentences from somewhere on that page BE CAREFUL NOT TO INCLUDE SPOILERS! (make sure that what you share doesn't give too much away! You don't want to ruin the book for others!) Share the title & author, too, so that other TT participants can add the book to their TBR Lists if they like your teasers! My Teaser Tuesday is for the following...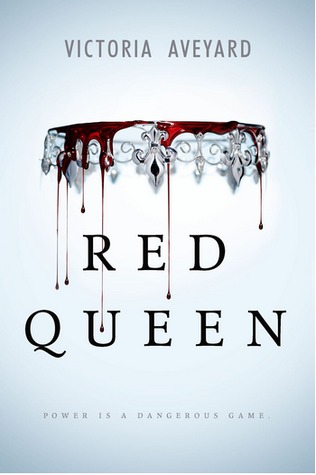 Red Queen by Victoria Aveyard
Publisher: (Orion) Harper Teen
Expected Publication Date: March 26, 2015
*Quotes are taken from an Advanced Readers Copy. They are subject to change in the final copy.*
Blurb:
Mare Barrow's world is divided by blood—those with red and those with silver. Mare and her family are lowly Reds, destined to serve the Silver elite whose supernatural abilities make them nearly gods. Mare steals what she can to help her family survive, but when her best friend is conscripted into the army she gambles everything to win his freedom. A twist of fate leads her to the royal palace itself, where, in front of the king and all his nobles, she discovers a power of her own—an ability she didn't know she had. Except . . . her blood is Red.
To hide this impossibility, the king forces her into the role of a lost Silver princess and betroths her to one of his own sons. As Mare is drawn further into the Silver world, she risks her new position to aid the Scarlet Guard—the leaders of a Red rebellion. Her actions put into motion a deadly and violent dance, pitting prince against prince—and Mare against her own heart.
From debut author Victoria Aveyard comes a lush, vivid fantasy series where loyalty and desire can tear you apart and the only certainty is betrayal.
Quotes from ebook Page: 32 & 183
"I'll be inside, if you need me."
"I won't," I answer quickly. "Even if things go wrong, I won't get you involved."
As much as I want to pull away, I just can't do it. Cal is a cliff and I throw myself over the edge, not bothering to think of what it could do to us both. One day he'll realize I'm his enemy, and all this will be a far-gone memory. But not yet.
PLEASE LEAVE A COMMENT with either the link to your own Teaser Tuesdays post, or share your 'teasers' in a comment here if you don't have a blog Thanks!